Call of Duty: Modern Warfare was the big winner for U.S. game sales in October, according to the latest figures from NPD, but hardware and software were down year-over-year despite entering the busiest time of the year.
The return of the Modern Warfare brand from Infinity Ward saw it become the best-selling game for the month as well as the best-selling game for the year so far. It also means for the 12th year in a row, going back to Treyarch's World at War in 2008, a Call of Duty game has ranked as the best-selling game in the month it's launched in. It's another feather in Call of Duty's cap after the launch success it's had.
New Obsidian IP The Outer Worlds came in second, no doubt pleasing the developer, publisher Private Division, and Obsidian parent company Microsoft, who will continue to see this as more proof it has legs as a franchise. And with post-launch support and content hinted at, there's definitely still more to come for the game despite the announcement last night at X019 of another new IP from the studio, Grounded.
Luigi's Mansion 3 debuted in third, becoming the best-selling Switch game for the month and set a new franchise sales best, previously recorded by the original Luigi's Mansion for Nintendo GameCube in 2002.
Other new entries include Ghost Recon: Breakpoint at six, WWE 2K20 at seven – despite it being massively panned at launch for being a severe broken and a buggy mess – and Ring Fit Adventure rounding off the top ten.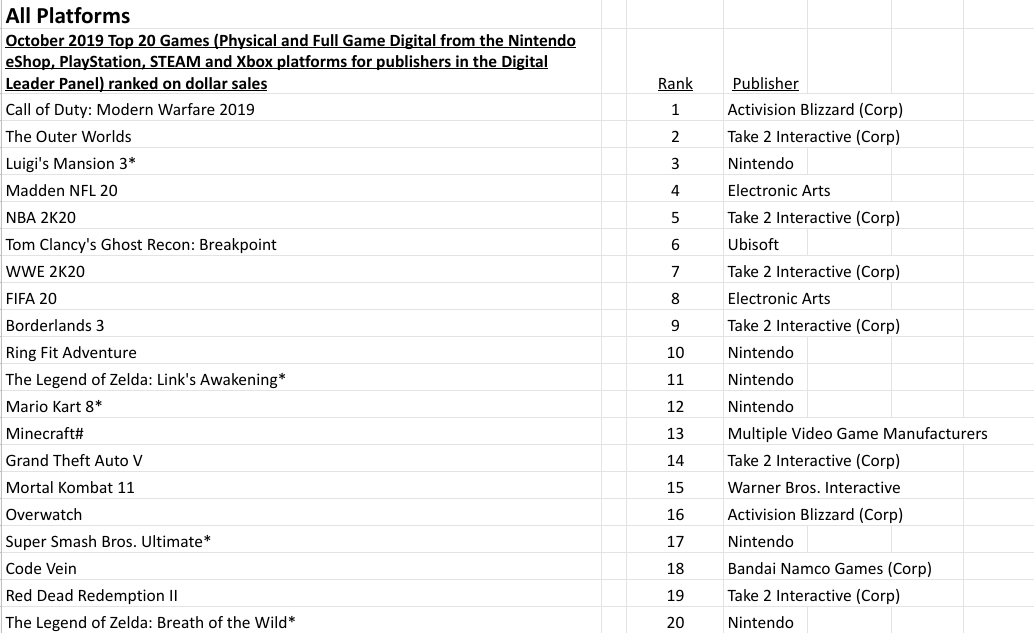 Nintendo Switch went on to become the best-selling hardware of October and remains the best selling hardware platform so far this year, according to NPD. The system sold 15 million units in the US as recently as September and is now odds-on to be the best-selling console of 2019 (and possibly 2020). For Sony, PlayStation 4 is now the third fastest unit-selling home console in history, only behind the Nintendo Wii and PlayStation 2, respectively.
October was a month of declines across the board for the industry, though. Overall spending for the year was at $1.03 billion, down year-on-year by 34% from the $1.57 billion made in the same period last year. Hardware saw a hit too with a 41% decrease year-over-year at $182 million compared to 2018's $307 million, while software was at $620 million, down 37% from $983 million in 2018. Accessories and game cards saw a 16% drop to $231 million from 2018's $277 million.
It's not surprising to see declines of this sort near the end of a console life cycle, especially on the hardware side, as most consumers are aware of the next-gen consoles coming in 2020. However, even in terms of software, "October 2019 spending declines can be primarily attributed to fewer blockbuster releases compared to October 2018, as well as Call of Duty: Modern Warfare having two fewer weeks in the October tracking month than Call of Duty: Black Ops 4 did a year ago," NPD analyst Mat Piscatella explained.
For year-to-date figures, overall spending was down by 10% to $9.29 billion, hardware spend came in with a figure of $2.06 billion, a 23% decrease year-over-year, and software at $4.5 billion, down 7% from October 2018's $4.84 billion. Spending on accessories and game cards was at $2.83 billion, a 3% drop from the same period last year.
Spending season is in effect now, and the market should pick up ahead of the Thanksgiving/Black Friday and Holiday period. But even then, some consumers may be waiting for what's to come from Sony and Microsoft with PlayStation 5 and Project Scarlett. It's safe to say that everything is in a state of flux right now ahead of the next-gen machines launching next year.