Development studio Supercell has seen a resurgence in revenue from its flagship title Clash of Clans, according to a new report from mobile analytics group Sensor Tower. Released in 2014, the strategy game saw significant growth in player spending in its first 12 months, but year-over-year spending has been in consistent decline ever since. Now, Supercell is reporting positive returns on Clash of Clans for the first time since 2015.
According to Sensor Tower, Clash of Clans revenue reached $727 million in 2019, a 27% increase over the $572 million it generated in the previous year. For mobile insights strategist Katie Williams, this kind of bounce back is a rarity.
"This isn't a trend we usually see in games of this age," Williams told GameDaily. "Other games that were popular during Clash of Clans' heyday, such as Game of War, have only seen player spending dwindle since. As far as I can see, the only other significant game of this age whose revenue has grown over time is Candy Crush Saga, though I would have to dive into its data to determine whether any singular event has ever jump-started its revenue stream."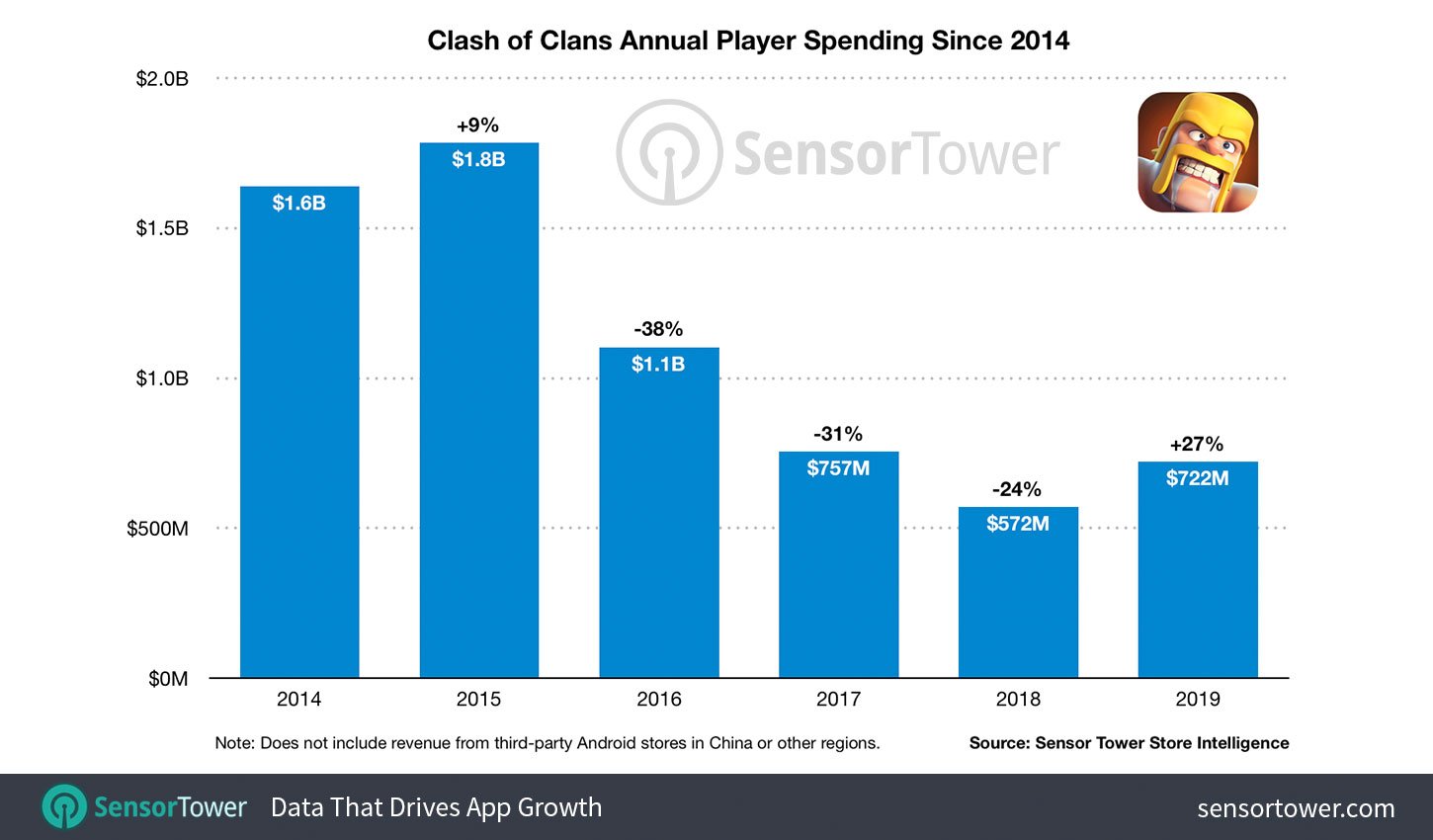 Williams attributes Clash of Clans' impressive rebound to the implementation of a premium "Gold Pass," a $4.99 in-app purchase that supplements the core gameplay experience. The battle pass, popularized by free-to-play experiences like Fortnite and PUBG, makes available to players cosmetic items like character skins, as well as powerful upgrades and other in-game bonuses.
The monetization model has helped reinvigorate revenue for other games as well, most notably in 2018 when PUBG Mobile saw its income multiplied by five. Interestingly, PUBG Mobile is developed by Tencent, the tech giant that recently gained majority control over Supercell, a coincidence not lost on Williams.
"Supercell certainly took a page from PUBG Mobile's playbook in implementing a battle pass mechanic," she said. "With Tencent generating so much of its revenue in China, I also wonder if Supercell is tapping into that knowledge of what monetization models are working for the Asian market, and learning how to adapt them for their Western players."
Looking forward, Williams anticipates that the battle pass revenue model will continue to play a big part in the mobile market, and that Clash of Clans has set a precedent that the strategy doesn't necessarily need to be limited to the battle royale genre. The battle pass is also a good way to inject new life into aging titles.
"A game doesn't have to decline with age," Williams explained. "With careful analysis and adoption of monetization trends, older games can maintain their relevance with evolving audiences and even increase their revenue streams years down the road."
The mobile ecosystem is the most lucrative sector of gaming, and the battle pass method of monetization is likely to keep the market growing for the foreseeable future. Clash of Clans is over five years old at this point, and to see it re-enter the discussion as one of the most profitable games of last year is impressive. Expect similar trends throughout 2020.