SuperData, the Nielsen-owned games analyst group, has released a report examining February's digital games market, and the numbers show a 4% year-over-year increase. Last month, digital games spending totaled $9.2 billion, driven largely by the mobile segment, which itself grew by 16%. This growth offset declines in console and PC revenue, which fell by 22% and 6%, respectively.
As usual, it was Honor of Kings that topped the mobile charts, followed by mainstays Candy Crush Saga, Gardenscapes, Last Shelter: Survival, and Clash of Clans. On the console side, FIFA 20, Call of Duty: Modern Warfare, and Grand Theft Auto: V led the way. Meanwhile, League of Legends, Dungeon Fighter Online, and Crossfire took the top three PC spots.
The mobile market has been surging thanks in large part to Tencent, which owns and operates Call of Duty Mobile and PUBG Mobile. These two games helped propel Tencent to substantial growth over the last year.
SuperData attributes the decline on PC and console to a lack of big game releases. Anthem and Apex Legends released in February 2019, meaning that the market had its work cut out for it last month. In particular, revenues in the free-to-play segment dropped 49%.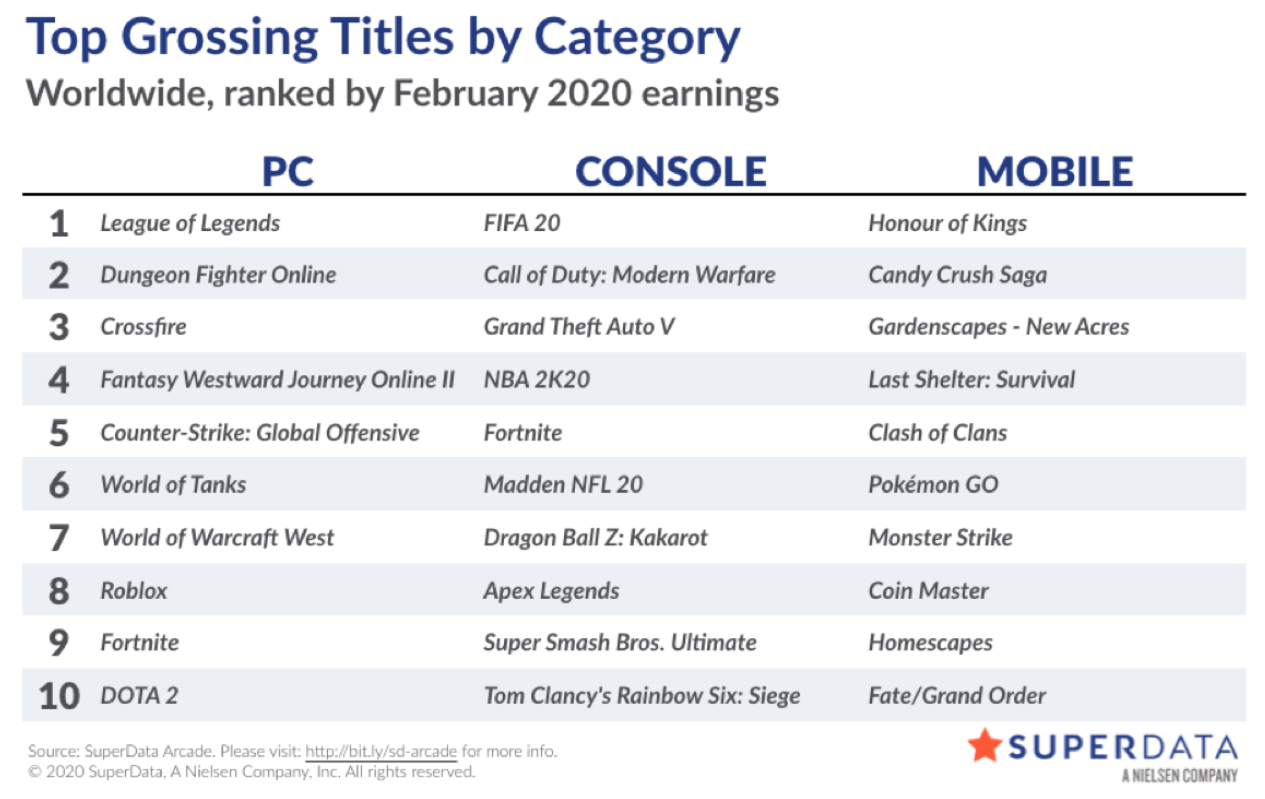 In January, SuperData reported that the digital games market generated over $120 billionin 2019, driven largely by free-to-play experiences like Fortnite and Apex Legends. In all, free-to-play games across all major platforms brought in $64 billion last year. That doesn't dismiss the fact that on PC and console, free-to-play has seen a slight decline in revenues over the last couple years.
"Console free-to-play earnings are still very dependent on Fortnite, so as that game's earnings continue to decline, the market overall will drop from $1.6 billion in 2019 to $1.0 billion in 2020," Rogers predicted at the time. "PC free-to-play revenue is also on track to fall slightly, but growth in mobile will more than make up for this. It's unlikely that Fortnite will still be the number one game in the world in 2020 unless there's an unexpected change in its revenue trajectory."
Elsewhere, SuperData noted that Counter-Strike: Global Offensive saw record active user numbers. In February, the game had an average of 24 million players.
"Player counts for the nearly eight-year-old title have trended upward consistently since the switch to a free-to-play business model in December 2018," the report reads. "An update to the game in late November 2019, which featured a battle pass and cosmetic character skins, has resulted in monthly revenue that is approaching the game's previous all-time peak in July 2017. Despite the renewed interest in the title, its surge in player count may not be sustainable given the runaway success of Call of Duty: Warzone and the pending release of Valorant, an upcoming free-to-play shooter from Riot Games."
CS:GO isn't the only legacy game to benefit greatly from the transition to a free-to-play formula. In January, mobile analytics group Sensor Tower noted that Clash of Clans saw a rise in player spending for the first time since 2015 after adopting a battle pass business model.
"This isn't a trend we usually see in games of this age," Sensor Tower analyst Katie Williams told GameDaily at the time. "Other games that were popular during Clash of Clans' heyday, such as Game of War, have only seen player spending dwindle since."
The Sims 4 also enjoyed a bump in player numbers following the game's giveaway as a free PlayStation Plus title in February. As a result, console players for The Sims 4 outnumbered PC players for the first time in the game's six-year history.
SuperData notes that February's report did not see a major impact from the coronavirus pandemic, but to expect a major shakeup in March's report.
"The spread of COVID-19 had a limited impact on gaming habits in North America and Europe in February, but this is changing," the report reads. "The most significant containment efforts like business shutdowns and travel restrictions did not ramp up until March. Many titles have since had an influx of players and spending as consumers have turned to games as one of the few entertainment options available."
Also likely to figure in is Call of Duty: Warzone, which has gotten off to an impressive start and is likely to surpass Apex Legends' first month player count. Expect more information on Warzone's performance next month.
Gaming and streaming has seen a significant surge as shelter-in-place policies have forced people to stay indoors, and this is likely to reflect heavily in upcoming sales reports. Considering that more and more people are turning to games to pass the time amid quarantine efforts, it's likely that we'll see even further growth in the digital games market. Expect to see this trend kick off this month.