According to a new report from games industry analyst group SuperData, consumer spending on digital video games across all platforms hit $8.8 billion in October. While the number is actually a 3% year-over-year decrease, the report is still indicative of the continuing growth of the digital sector.
As usual, mobile platforms led the way in terms of overall gross. Honour of Kings, Last Shelter: Survival, and Pokémon GO were the most profitable games, followed by other mainstays like Clash of Clans and Lineage M. Interestingly, Call of Duty: Mobile did not breach the top 10, but it did snag the 12th spot; SuperData estimates that it generated $57 million in October, and had 116 million active users.
"We expect mobile games revenue to grow by 4% in 2020 alone," Carter Rogers, principle analyst at SuperData, told GameDaily. "Most of this growth will come from Asia. Hardcore mobile games with devoted players, like PUBG, have taken off in India and Southeast Asia. These regions lack console or PC gaming scenes like more mature gaming markets, so we'll continue to see hardcore gamers gravitate to phones and drive future spending."
On the console and PC front, Call of Duty: Modern Warfare boasted the most successful digital launch of not only October, but all of 2019 so far. It sold an estimated 4.8 million digital units in October. SuperData does note, though, that Modern Warfare sales are down 11% from last year's Black Ops 4, a decline attributed to a launch later in the month, as well as a lack of a season pass bundle. Just one week ago, The NPD Group had also reported that Modern Warfare has been the best-selling game in the U.S. to date in 2019.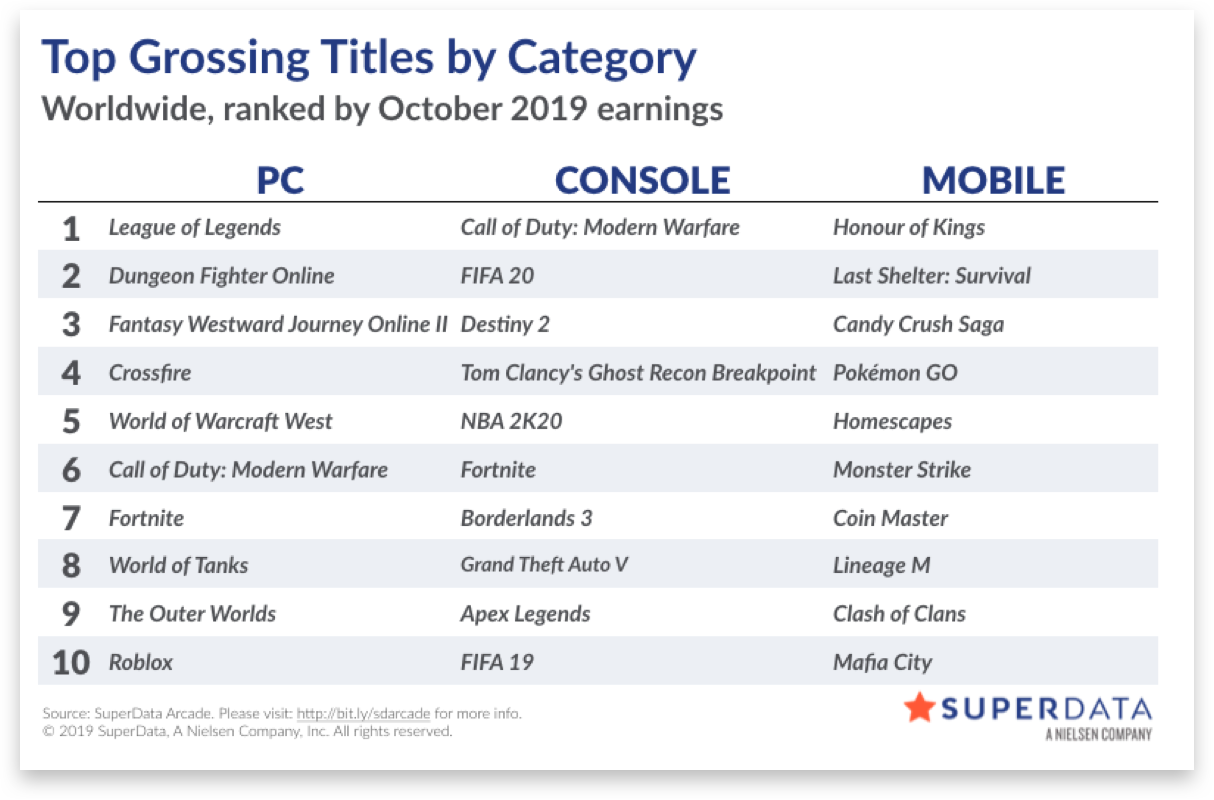 EA and Respawn have managed to turn Apex Legends into a pillar of growth as well, according to the report. October was the game's best month since its launch quarter–it brought in $45 million, which is an enormous jump over September's $16 million. This number landed it at number nine on the console list for October.
"Apex Legends had a blockbuster first two months on the market but revenue and player numbers then fell drastically in its third month due to a lackluster battle pass," Rogers explained. "However, subsequent seasons reignited interest thanks to improved cosmetic items and a new map for Season 3. Interesting limited-time events like the Halloween Fight or Fright event have also helped. The success of games like Fortnite and Overwatch show that these types of limited-time events can bring lapsed players back into a game much like a full-fledged sequel."
Of note is that Ghost Recon Breakpoint landed itself at number four on the best-selling console games list. Last month, Ubisoft expressed disappointment at the performance of the Wildlands follow-up, despite it doing well in NPD's analysis.
Looking specifically at the PC rankings, October's top-grossing game was League of Legends, followed by Dungeon Fighter Online, and Fantasy Westward Journey Online II. Regulars like Fortnite, World of Tanks, and Roblox also performed as expected on PC, but one inclusion stood out a bit more. The Outer Worlds managed to break into the top 10 best-selling digital games for October, which is something of a rarity given the consistent dominance of live-service games. Even considering that, Rogers said it's not all that surprising.
"The success of The Outer Worlds isn't too surprising when you consider the pent-up anticipation for a new single-player game in the vein of Fallout or The Elder Scrolls," he said. "Fallout 4 was actually the third highest-earning premium PC game of 2015, and the marketing for this game was effective at positioning it as a spiritual successor to Fallout: New Vegas. Impressively, the game would have probably generated even more revenue in its launch month if it wasn't available as part of Xbox Game Pass on console and PC."
As cloud services continue their rise in prominence, digital game sales also climb. This is a trend facilitated by this console generation's focus on digital distribution, Rogers said. When the next consoles hit, they will likely continue this pattern.
"When the PlayStation 4 and Xbox One launched in 2013, they were much more digitally-focused than their predecessors," he explained. "They came with large hard drives and offered players the ability to download all games on day one. The next Xbox and PlayStation 5 will merely be replacing consoles that are already designed around digital distribution."
The growth, however, is likely to be gradual rather than explosive. The premium console market, Rogers said, is driven by a handful of blockbuster hits, not unlike movie ticket sales. So, it stands to reason that the next gen is going to need to bring the triple-A pedigree with it if publishers want to see the market continue to flourish.