Nielsen-owned SuperData Research has issued its September 2019 worldwide digital games report, revealing a 1% decrease in total spending during the month for a total of $8.9 billion in revenue. Console spending in particular fell 17% while PC games spending also dropped 3%. The continued momentum in mobile, however, managed to almost completely offset these dips, as mobile spending rose 6% and mobile actually jumped up to 59% share of the entire market during September.
Epic Games' Fortnite was partially responsible for the overall dip in spending, as the title saw its revenue across all platforms plummet 43% month-over-month in September, "marking the worst performing month of revenue since November 2017," SuperData noted. This was all before the launch of Chapter 2, which we previously reported led to a significant bounceback for the battle royale title on mobile (up 141% in sales on iOS, according to Sensor Tower).
SuperData hasn't issued its revenue estimates on Chapter 2 yet, but the firm does believe that the makeover for Fortnite will bring a number of players back into the fold.
"Season 10 in Fortnite was a decisive period for the game. Top-tier players and streamers complained vocally about the temporary addition of mechs to the game. They felt anyone who lucked into finding and piloting a mech during a match got an unfair advantage," Carter Rogers, Principal Analyst at SuperData, commented to GameDaily. "Pro players were likely the ones most affected by this change. However, perceptions about a game's balancing and quality among influential streamers can trickle down to casual fans too.
"During August and September, many streamers took a break to play other titles like Minecraft and World of Warcraft: Classic. The 'back to basics' approach for Chapter 2 has the potential to bring back many players who were put off by the steady addition of items and game mechanics each season."
While it's encouraging to see that Chapter 2 has already had a noticeable impact on Fortnite on mobile, it'll be interesting to see how the game fares in the next few months on console and PC. As Rogers reminded us, "Fortnite has always earned more on PC and console than on mobile. Mobile was actually the most popular platform for Fortnite during the summer of 2018, but mobile user numbers have fallen sharply since then while the size of the console and PC audience has remained relatively consistent."
Taking a closer look at the declines for console and PC spending, it's not entirely surprising to see a dip in September in advance of the holiday season when things ramp back up. The NPD Group reported a slight decrease in spending as well. And while 2K Games' Borderlands 3 sold an estimated 3.3 million digital units across console and PC in September, the overall market was experiencing a tough comparison against last year's big AAA performers.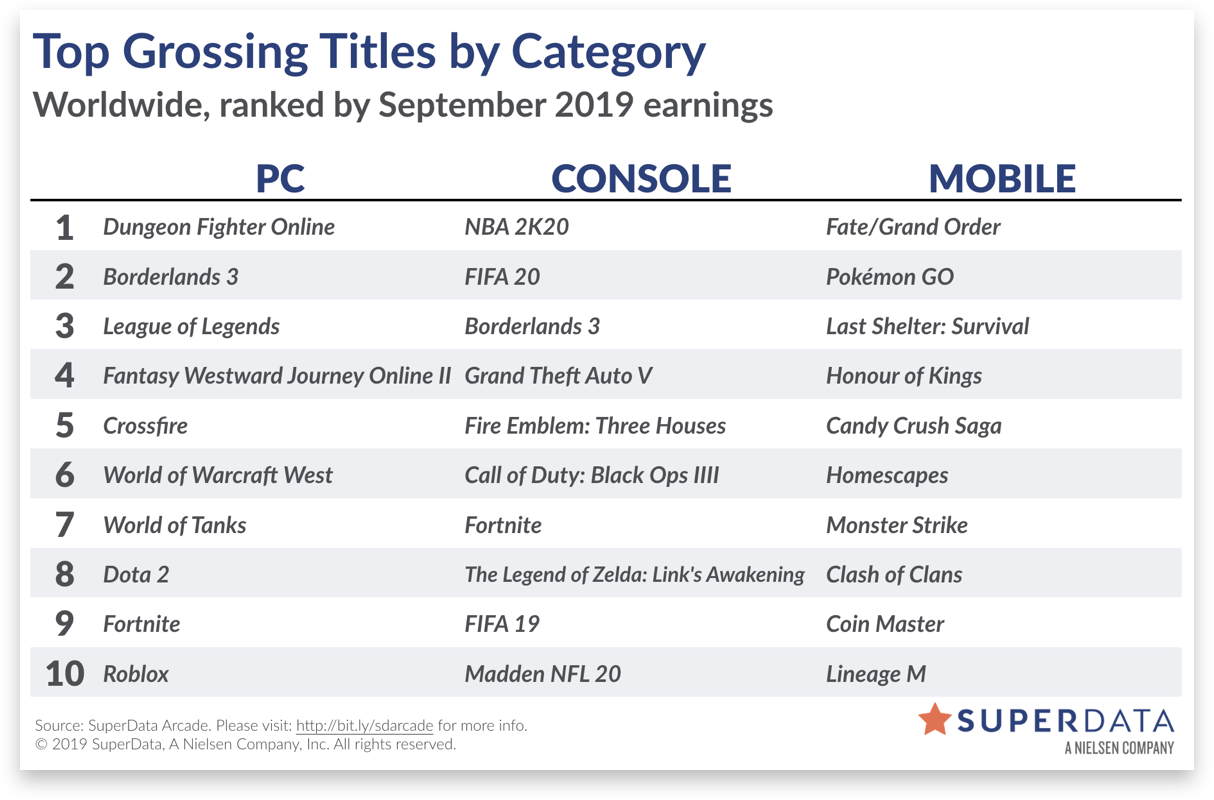 "Console revenue is extremely dependent on the performance of a small number of AAA titles. In this case, the big September 2019 games Borderlands 3 and Gears 5 didn't quite match the launch month revenue of September 2018 releases, namely Marvel's Spider-Man and the Destiny 2: Forsaken expansion," explained Rogers.
The market wasn't helped any by this year's sports titles either. SuperData said that both NBA2K and FIFA's latest releases "were slow out of the gate" and that "in-game spending for the NBA2K franchise grew only 6% in September, while the FIFA franchise declined slightly year-over-year due to an unfavorable comparison against World Cup after-effects last year."
That's in stark contrast to the 2018 versions of NBA2K and FIFA, which combined to spur in-game spending growth of 24%. While the 2018 World Cup was a huge benefit for the FIFA franchise last year, Rogers believes that part of the problem with annual sports titles is simply market saturation. And for NBA2K this year, there was a fair amount of controversy around its loot boxes system, especially since the publisher chose to spotlight its loot boxes as a main attraction in a trailer. That said, the impact of loot boxes on actual sales dips was likely minimal, Rogers said.
"We haven't seen evidence that potential loot box backlash has affected licensed sports games quite like other genres. Instead, slowing growth is likely due to market saturation. There's a limit to how many people will purchase licensed sports games on console annually," Rogers said.
With the mobile sector taking up the lion's share of the game revenue pie, it's hard to ignore the sizable impact of the massive audience in China, which had almost 600 million mobile gamers in 2018 alone, according to Niko Partners. With that in mind, Fate/Grand Order from Delightworks grabbed the top spot in SuperData's mobile rankings for September, and China had a lot to do with its success. The game generated $246 million in revenue (with the majority of its growth coming from China), more than double its revenue from last September ($98 million) and up month-over-month from the $131 million it generated in August.
Leveraging the growing Chinese gaming audience — a focus for GameDaily Connect Asia 2019 — is a tantalizing prospect for Western developers and publishers, but it's not as easy as just putting a game out in the region.
"It's not enough for international developers to simply partner with a Chinese company and get their game approved in the country," said Rogers. "A game also needs to be the right fit. Fate/ Grand Order, much like Summoners War and Fire Emblem Heroes, is an RPG where players collect randomized characters (also known as a gacha game). These games are extremely popular in Asia but have a harder time catching on elsewhere, with a few exceptions.
"Additionally, the IP behind Fate/Grand Order was already popular in China before the mobile game arrived. The game also featured a major three-year anniversary event in China during the month."
September may have represented a slight dip in digital spending, but October prospects are looking good, considering the launch of Chapter 2 for Fortnite, and numerous big game releases like Call of Duty: Modern Warfare, Tom Clancy's Ghost Recon Breakpoint, Luigi's Mansion 3, Destiny 2: Shadowkeep, and more.