Games industry analyst group SuperData has released a new report that reflects on the biggest trends in digital gaming from 2019. According to the numbers, revenue generated by digital games rose 3% last year to $120 billion, with the mobile market being the largest contributor by a wide margin.
"Mobile is set to continue growing for the foreseeable future," Carter Rogers, principal analyst at Nielsen-owned SuperData, told GameDaily. "Casual and midcore games like Candy Crush Saga and Pokémon GO continue to drive mobile revenue in North America and Europe due to their immense potential reach. Also, in much of the world, hardcore titles that US gamers would typically play on PC and console are often played on smartphones. That's why RPGs are the highest-earning mobile game genre and why Honour of Kings and Game for Peace are chart toppers on mobile."
SuperData reports that free-to-play mobile games generated over $64 billion over the last 12 months, while those on PC brought in $30 billion. In 2018, the two markets generated $59 billion and $22 billion, respectively. Across both years, though, it was Fortnite that topped the free-to-play charts. It's noteworthy, though, that the battle royale juggernaut saw a slight decline in revenue in 2019.
"Console free-to-play earnings are still very dependent on Fortnite, so as that game's earnings continue to decline, the market overall will drop from $1.6 billion in 2019 to $1.0 billion in 2020," Rogers predicted. "PC free-to-play revenue is also on track to fall slightly, but growth in mobile will more than make up for this. It's unlikely that Fortnite will still be the number one game in the world in 2020 unless there's an unexpected change in its revenue trajectory."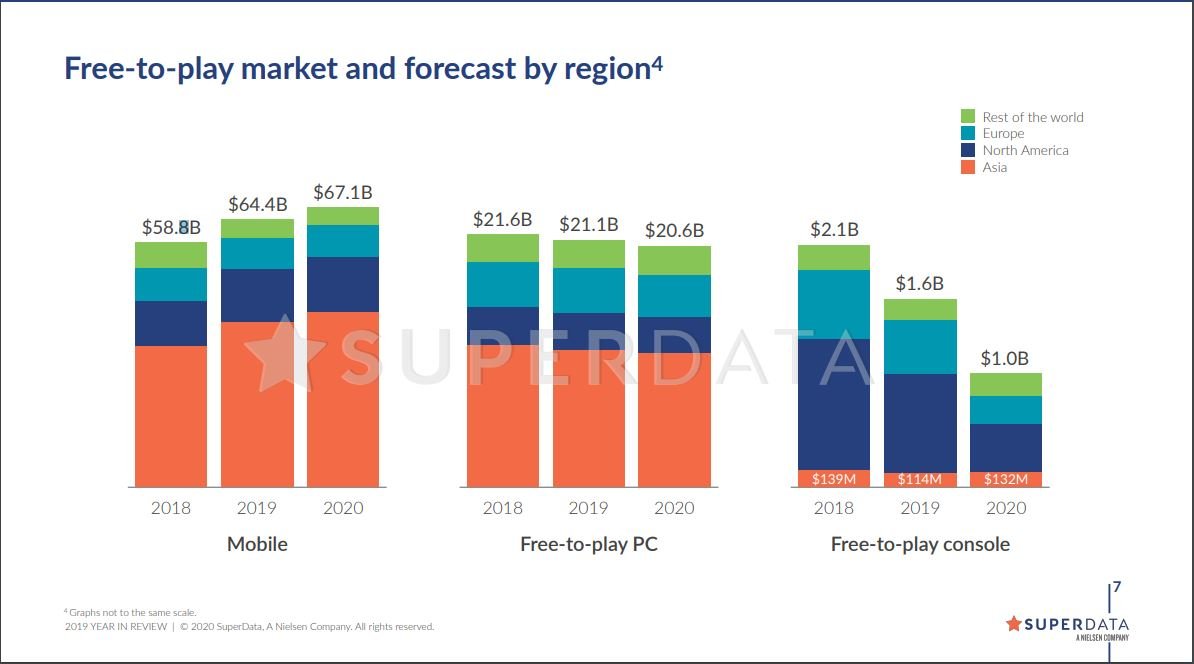 While free-to-play revenue rose, premium game revenue fell by 5%, according to the report. The top-grossing premium PC and console game was FIFA 19, a sports title that releases annually. The lull, Rogers said, is mostly due to a lack of major game releases.
"Publishers are preparing to launch a big wave of games next year to close out this console generation," he explained. "We expect to see earnings rebound as titles like Final Fantasy VII Remake, Cyberpunk 2077 and The Last of Us Part II arrive in quick succession. The year-over-year performance of PlayerUnknown's Battlegrounds also affected the market total. The PC and console versions of the game earned a combined $979 million in 2018, but this fell to $288 million in 2019."
Another sector that SuperData tracked throughout 2019 is "gaming video content," stylized as GVC in the report. The stats examine the amount revenue generated by various streaming and video platforms, like Twitch, YouTube, and Huya. One of the most interesting facts is that Twitch generated more money than YouTube despite having a smaller audience. Meanwhile, subscriptions on Twitch accounted for 8% of its total revenue generation. In total, GVC produced $6.5 billion in 2019.
Platform exclusivity deals for popular streamers dominated headlines last year, a trend that's likely to continue in 2020, according to Rogers. Personalities like Ninja, Gothalion, and Shroud all made waves by signing contracts with Mixer. With more deals like this likely on the horizon, SuperData anticipates a "flatter livestreaming landscape" that will increase viewership on these platforms.
Looking forward, Rogers anticipates that a few prominent trends will continue as premium games revenue bounces back.
"We're likely to see more console and PC franchises make their way to mobile," he said. "Smartphone hardware is now powerful enough for mobile versions of games to closely resemble their console and PC counterparts, as seen with Mario Kart Tour and Call of Duty: Mobile. We're going to see fewer mobile games that are simply a branded skin applied on top of gameplay that does not resemble what the franchise is known for."
Additionally, the success of games like Apex Legends–which disrupted the market with its unprecedented marketing strategy–likely signals a larger shift from premium business models to free-to-play strategies for the online multiplayer market. Rogers said that free-to-play makes more sense for games that depend on large player bases and are capable of generating recurring revenue through the purchase of in-game items.
A booming mobile market and the continued rise of the free-to-play business model are the biggest takeaways from SuperData's report. These trends characterized 2019 in gaming, and are likely to continue for the foreseeable future. It will be interesting to see how the next generation of consoles affects the landscape, though, as manufacturers look to integrate more streaming and cloud features into their devices. As we enter the final year of this console cycle, these are the biggest trends to keep an eye on.