Just over two years after its launch, the mobile version of Fortnite has broken $1 billion in revenue, with most of that sum coming from Apple's App Store. This is according to mobile analyst group Sensor Tower, who notes that the ongoing COVID-19 pandemic has not stopped the pop-culture powerhouse from growing its audience. In fact, the game has likely benefited from quarantine and shelter-in-place orders.
"As with mobile gaming as a whole, Fortnite's mobile incarnation has seen some lift from consumer isolation during COVID-19," Randy Nelson, Sensor Tower's head of mobile insights, told GameDaily. "But like we've seen with other categories, such as streaming video, the impact is likely tampered by the fact that consumers have access to more ideal platforms to play the game on, such as consoles and PC, while at home."
As a whole, the games industry has benefitted quite a bit from self-isolation. Last month, NPD reported that games industry revenue increased 35% in March, putting an end to several months of steady decrease. Livestreaming has also seen a bump as consumers turn to the medium as a primary form of entertainment during the crisis. While not all sectors of the games business are wholly recession-proof, the industry is better-prepared than others to weather any resultant economic fallout.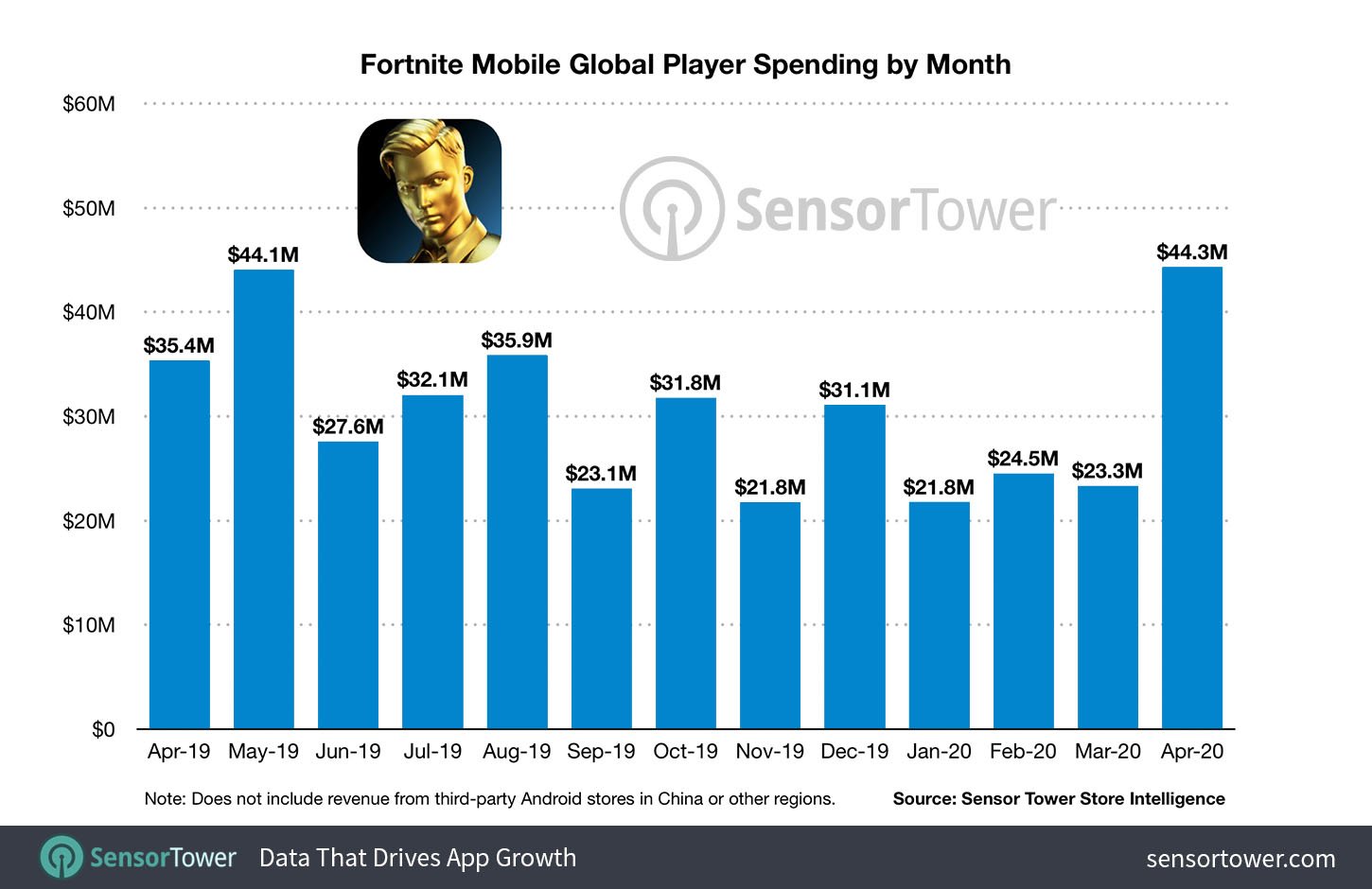 Fortnite's mobile milestone comes on the heels of its release onto the Google Play store just last month, a move that represents a backtrack on the part of Epic Games. For much of the last two years, Epic and CEO Tim Sweeney have decried Google's "unbalanced" revenue split. This argument reached a crescendo in December when Sweeney publically encouraged Google to let publishers utilize their own payment services.
Reportedly, Google has not changed their revenue split policies, but Fortnite came to the Google Play storefront regardless. For Nelson, this move is likely just part of a larger effort by Epic to keep growing the already-enormous Fortnite audience.
"Epic Games' decision to bring Fortnite to Google Play ultimately coincided with myriad other events and announcements, such as the Travis Scott concert and Party Royale mode, so much of what we're seeing in terms of recent revenue growth for the title is likely attributable to those latter factors and the general lift we're seeing in gaming spending amid Covid-19," Nelson explained.
Looking forward to the rest of 2020, and the launch of next-gen gaming hardware from Sony and Microsoft, Nelson said he expects the free-to-play mobile market to become even more lucrative thanks to uncertain economic conditions.
"It's possible that this fall's launch of the next-generation game consoles will have a diminished impact on mobile game adoption as compared to previous cycles as many consumers are feeling the pressure of constricted finances and unemployment on their disposal income," he said. "Because of this, free-to-play games, which are the majority of mobile titles, will be more attractive to consumers than ever before."
Of course, Epic has already announced Fortnite as a next-gen launch title, as well as plans to migrate it to the recently-revealed Unreal Engine Vsometime in 2021. It's the PC and console versions that have been the most lucrative, but cross-play functionality has cemented the mobile platform as a central pillar of Fortnite's business model.
At this point, we shouldn't be surprised by any numbers surrounding Fortnite revenue. Just last year, the game generated nearly $2 billion across all platforms, and Sweeney has been nothing if not ambitious about his intent to grow the property into a platform beyond simply video games. Considering the way it has breached mainstream consciousness over the last couple of years, $1 billion in two years on the mobile platform is chump change for Fortnite.