Google launched its Stadia cloud gaming service earlier this week for those customers who preordered the Founder's or Premiere Editions. The reviews across mainstream and specialist publications alike have painted a picture of a platform that is battling for relevance. While the technology can work well, it doesn't always, and critics had a hard time determining who the service is actually for, especially given the business model that seems to be hampering Stadia from the get go.
So how did the launch go? Google has yet to release any figures, but according to mobile research firm Sensor Tower, who shared new downloads data with GameDaily, the Google Stadia app was downloaded more than 175,000 times from November 5 to November 19. The app was released on November 5 on Google Play, and on November 19, Stadia ranked as the No. 82 most downloaded entertainment app on Google Play. Android, unsurprisingly, accounted for about 90% of the Stadia downloads, and the U.S. led countries with about 41% of the total.
While Sensor Tower would not weigh in on how closely the downloads figure correlates to actual Stadia adoption, it's at least one indicator of how Google has performed thus far, given that Stadia does require the app to initiate the service. Katie Williams, Mobile Insights Strategist at Sensor Tower, reminded us that Stadia only launched in North America and parts of Western Europe, so the downloads figure is limited to those geographies.
We're still in the early days for Stadia (and cloud gaming in general), but if we make the assumption that the 175,000 downloads also roughly represents the preorders figure (which it likely doesn't), what can we make of this figure? It's clearly not great, but Google is just getting started. While not an apples-to-apples comparison, Sony's PS3 sold only about 81,000 units in Japan in its first 24 hours, according to Media Create. Xbox One, which has a much broader global launch, posted sales of 1 million units in its first 24 hours.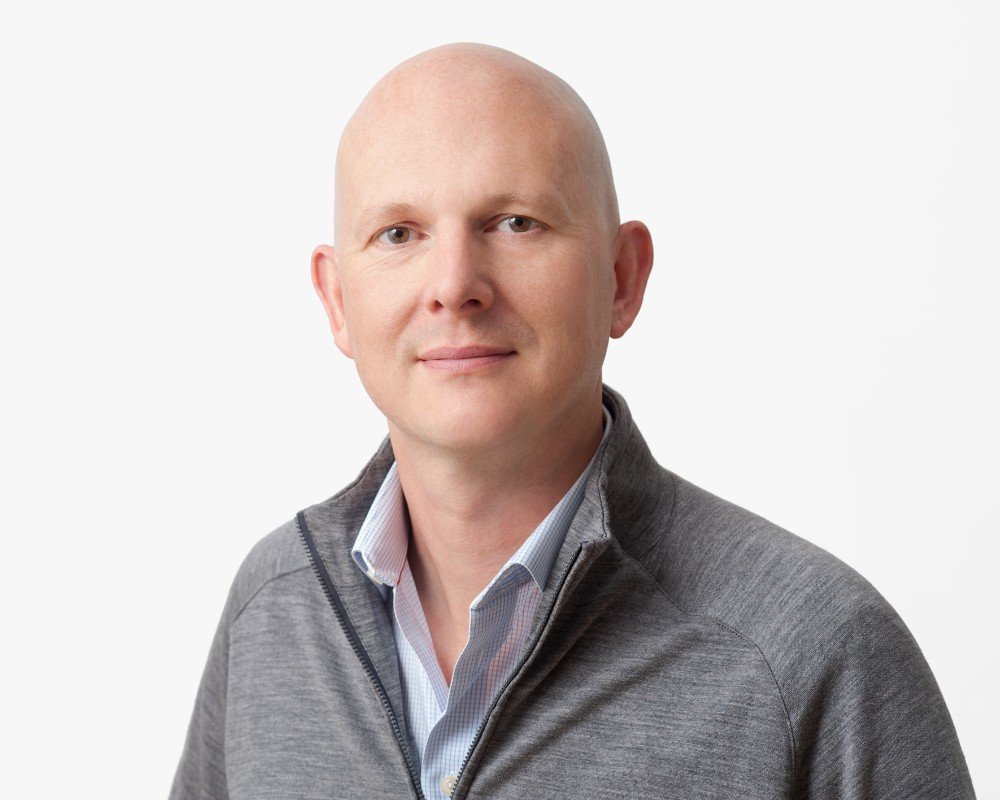 Current Stadia boss Phil Harrison played a major role in the launches of both the PS3 and Xbox One. These systems had their struggles out of the gate, but they went on to see fairly strong adoption in the long run after Harrison's departure. But perhaps Harrison has learned something from those past experiences and will be able to firm up Stadia's long-term strategy.
According to Lewis Ward, IDC's Research Director of Games and AR/VR, Google could be in a position to attract many more users next year, when the company launches its free Base tier.
"My understanding, based on several industry discussions in recent months, is that Google is aiming for a 'console-type' launch with Stadia," he told GameDaily. "If you just look at the U.S. and you add up PS3+PS4+X360+XB1 in their launch quarters and take an average, that works out to nearly 1.4M units shipped. I then cut that in half in my model due to my skepticism about this market and because it's been clear to me for some time that launch catalog for Stadia would be quite thin.
"So what I can say is that if Stadia sells 700,000 Founder's Edition bundles in the U.S. by the end of 2019 that will be in line with my rough expectations. Rather than dumping on Stadia, [I would say that] Stadia will have a chance to change the narrative and reintroduce itself when the Base tier arrives next year. I think they should do everything they can to shore up the game catalog and the core community features between now and then, and use the debut of Base as a relaunch opportunity."
If Stadia isn't looking to change its business model and will continue to require full purchases of individual games on its service, then it's going to have to really demonstrate what the power of the cloud is capable of. We've not seen evidence of that yet, but Harrison fully believes in it.
"I think there are two things that we believe strongly will be exciting for gamers. One is the quality of the experience. The power that we are putting into the data center to power the games dwarfs any console that is available today. [It is] substantially greater than the vast majority of PCs, maybe bar the absolute top, water-cooled PCs," he told IGN.
"Fundamentally, we are delivering a richness of CPU, GPU, and experience that just cannot be done, realistically, at a mass-market today. And you, as the gamer, get to choose where you have that experience. The same game, the same experience, moves seamlessly from your TV to your PC, to your laptop, to your phone, and anywhere in between. That modality of being able to say, 'Well, actually, I'm gonna complete this game somewhere else in the home,' or, 'My family wants to use the big-screen TV and I can carry on playing, without interruption,' is a real transformation for the way that games are played."
As the saying goes, seeing is believing, and Stadia has a lot of convincing to do. According to Ward, the public perception around cloud gaming services in general hasn't been super positive.
"We've been through this before and I've watched Sony's PlayStation Now service morph and grow over the past five years into a respectable service with around 1 million paying subscribers worldwide. So that's roughly a 1% conversion rate of the PS4 install base to put that figure into context. And PS Now is the clear market leader by revenue. Anyone who thought Stadia was going to come flying out of the gate has a short memory," Ward commented.
"This is very hard stuff to get right and there are a lot of high-quality game distribution channels out there and a lot of entrenched gamer behavior that's tough to change. What I call CSG (cloud-streamed gaming in order to differentiate it from traditional games with live cloud-based services, and that are locally downloaded or played in a browser) has to be either significantly less expensive than games coming through other distribution channels or has to deliver great experiences that aren't available through other channels. Stadia is neither today."
In an IDC survey that was fielded in the third quarter before further details surfaced on Project xCloud and Stadia's upcoming launch, the research found that interest in CSG was growing but that Stadia had been trailing the pack.
"As of late Q3 2019, it appeared that about 20M U.S. gamers at some point next year intended to sign up and at least try one CSG service, and many seem interested in trying two, by the end of 2020. Stadia came in third on the interest level measure across the 'big four' CSG providers, all of which I expect will have commercial services in the market by the end of next year," Ward explained.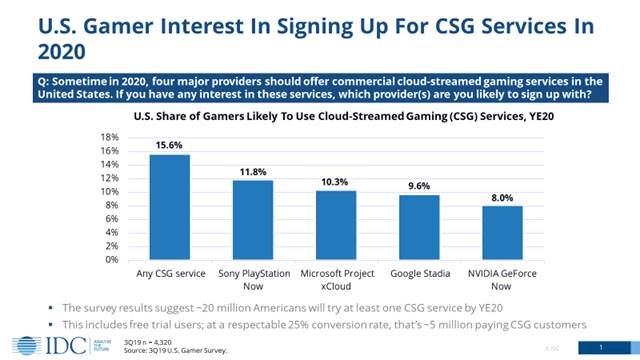 "Yes, Stadia is having a disappointing launch. If you calibrated your expectations based on what's happened in the past though, it's par for the course. That's why xCloud and GeForce Now are in beta and will be for many more months to come. This is a hard thing to get right because there are so many moving parts, but long-term gaming and broader tech trends point to CSG as eventually emerging as an important and probably mainstream game distribution channel. It'll be a slow build for many years."
And clearly, that's what Harrison and Google are counting on (as long as they don't pull the plug on Stadia first). Harrison told IGN that 5G is "not that far away" and he believes it will be a "future unlock" to make Stadia truly accessible anywhere.
This week's launch and bevy of negativity from reviewers didn't do Stadia any favors, and Google needs to get aggressive with compelling content in a hurry, as the competition is about to become fierce.
With Xbox Game Pass coming to Project xCloud and Amazon now strongly rumored to be preparing its own streaming games service for 2020, the pressure on Stadia will be immense. Amazon Web Services is already fully ingrained in the cloud ecosystem, giving Amazon an inherent advantage, not to mention full Twitch integration. That said, from a game development perspective, Amazon Game Studios has not proven it has the chops just yet. How this all plays out in 2020 is hard to predict, but it's been fascinating to see the state of cloud gaming evolve.