Pokémon Home is continuing its solid launch. According to Sensor Tower, the mobile companion app, which enables Pokémon trainers to import their Pokémon from across generations of the franchise into one location, has amassed 2.3 million downloads and $2.6 million in consumer spending in its first 30 days on the market. The analytics firm had previously reported that the app had been downloaded 1.3 million times in its first seven days.
The U.S. has accounted for the largest portion of Pokémon Home installs so far with 695,000 (30.2%), followed by Japan at 446,000 (19.4%). And Pokémon fans in the U.S. also drove the most spending at $1 million (38.5% of the total) followed by Japanese fans who spent $867,000. Katie Williams, mobile insights strategist at Sensor Tower, noted to GameDaily that Pokémon Home's geographic breakdown is not surprising given the history of the franchise in both the U.S. and Japan.
"Our analysis of other Pokémon mobile apps reveals that the U.S. and Japan are their largest markets as well, so it stands to reason that Pokémon Home would follow suit in this respect," she said.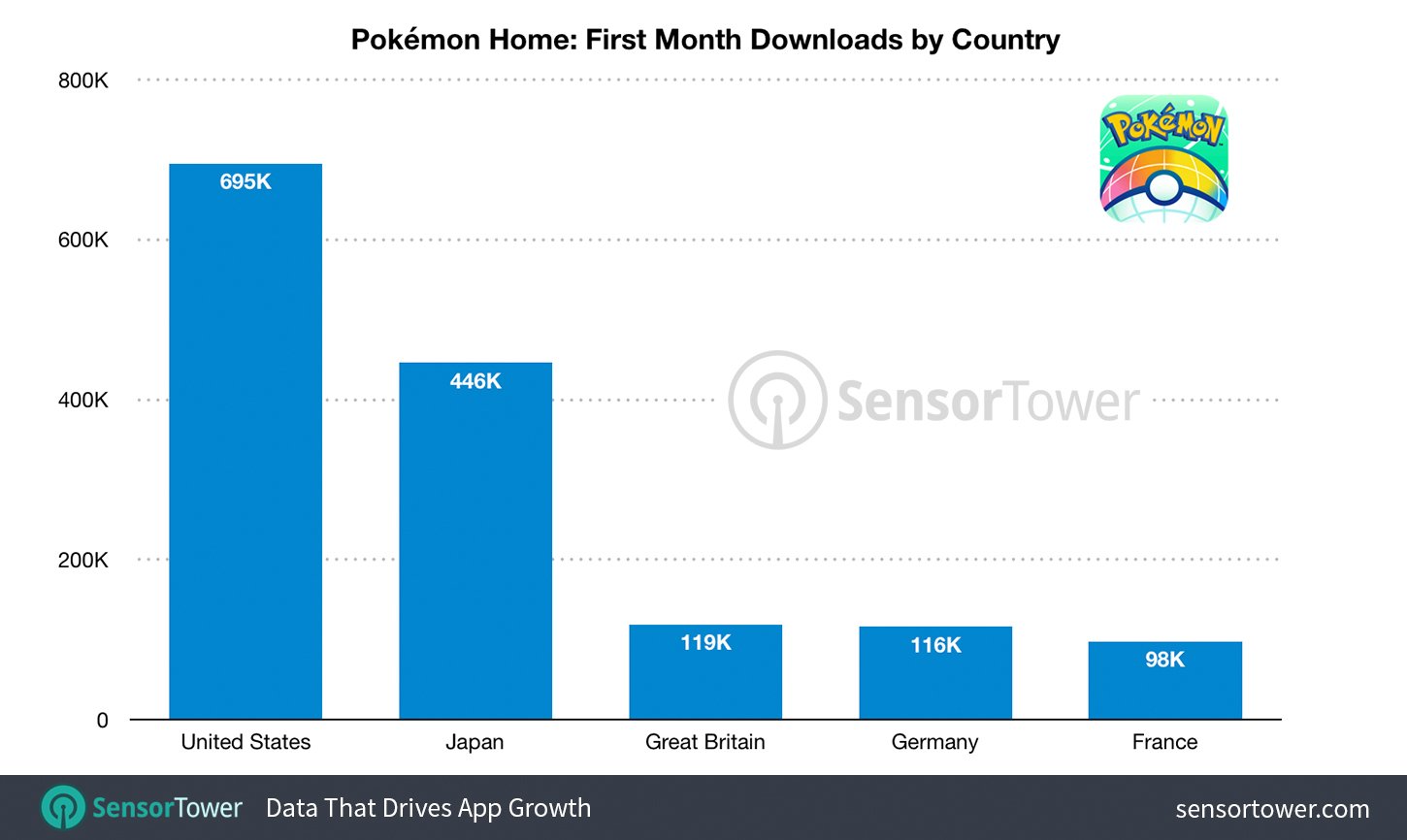 A quick look at the downloads figures reveals that more than half of all installs happened during the app's first week, and consequently adoption slowed down in the ensuing three weeks. That's not necessarily a bad sign, and Williams is inclined to believe that the long-term prospects for Home are very good.
"It's typical for downloads and revenue to slow after the initial launch of a highly anticipated app or game such as this, since much of the demand is front-loaded," she said. "Given the unique service Pokémon Home offers, it's difficult to predict its long-term trajectory — however, given its integration with a number of current and future Pokémon games (including, eventually, Pokémon GO), the service stands to benefit with each new release in the franchise. This, plus the fact it is subscription-based, makes us curious to see if it becomes a must-have for Pokémon players."
The subscription model seems to be working for Pokémon Home. The one-month Premium Plan ($2.99) has been the most popular, followed by the 12-month plan ($15.99) and the three-month plan ($4.99). Williams added, "Revenue doubled between March 11 and 12 (from $22,000 to $44,000), exactly one month after release, signifying that a notable number of those who subscribed to the monthly plan on the first day continued their subscription for another month."
Given that Pokémon Home is already compatible with Pokémon Sword and Shield, Pokémon Let's Go Pikachu and Evee, and the Pokémon Bank (which integrates with creatures as old as the Game Boy Advance era), the app is incredibly convenient for avid Pokémon players who want to be able to view, interact, and trade Pokémon from one program. Williams does not see Home as a gateway title to the franchise, but the unique nature of the companion app could inspire publishers of other popular game franchises to spin up something similar.
"It's a novel idea and, if this app proves financially successful for The Pokémon Company in the long term, we can envision other developers (particularly those of inventory-based games like MMOs) implementing their own similar services as a supplemental revenue stream," she noted.
Like Mario and Lego, Pokémon is one of the few entertainment franchises that has become truly cross-generational. The property has been around for almost a quarter century, and the world's biggest IP don't stick around by remaining stagnant. Pokémon Home has been a fantastic innovation for the IP, and you can bet The Pokémon Company will be looking at a variety of ways to continue leveraging its powerhouse brand in the years ahead.