Pokemon Go, Angry Birds, Clash of Clans… These are some of the biggest mobile game properties in history. And yet, somehow they're not even in the top 10 when it comes to most downloaded mobile games of the decade, according to the latest report put out by analyst firm App Annie, that's not the case.
As part of its roundup of the biggest apps and games downloaded this decade, App Annie revealed that Subway Surfers from Danish developer Kiloo topped the most downloaded games list. The reason for its success, according to analyst Adithya Venkatraman, was down to how it performed in the Indian market, taking in over 15% of its all-time downloads across a combination of iOS and Google Play.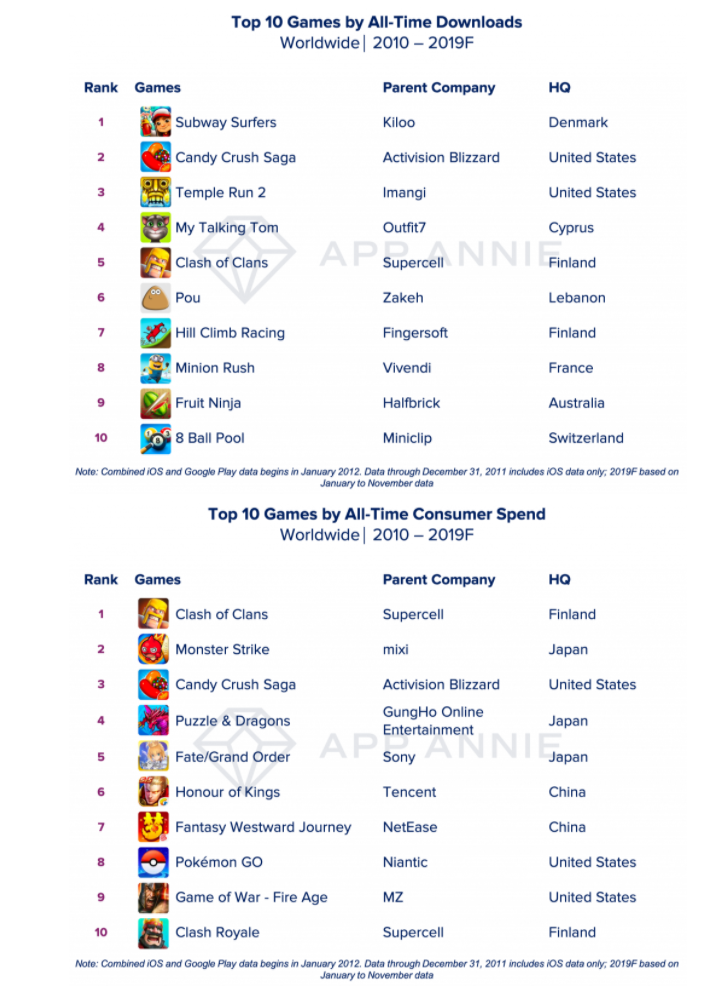 Candy Crush Saga from King came in second, with Imagi's Temple Run 2 rounding off the top three. More established games from the decade included Clash of Clans in fifth and Fruit Ninja at ninth. Surprisingly, even though we reported that Pokemon Go had surpassed 1 billion downloads earlier this year, it failed to make App Annie's top 10 of the decade for downloads.
And this is where we see the big discrepancy between downloads and revenue, as Pokemon Go did place eighth on App Annie's top consumer spend chart. Downloads has never been the best metric for financial success, as monetizing free-to-play can be challenging, and the variations in App Annie's two charts certainly back that up.
Pokemon Go came in ahead of Game of War – Fire Age and Clash Royale for top consumer spend, but it's Supercell that tops the list with Clash of Clans coming in with the biggest consumer spend this decade. The top three is rounded off by mixi's Monster Strike and King's Candy Crush Saga. Meanwhile, Subway Surfers, which dominated the downloads chart failed to make it into the top consumer spend chart of the decade.
App Annie's EVP Corporate Marketing & Insights, Danielle Levitas, doesn't see this discrepancy as necessarily a sign of the difficulties of free-to-play monetization, however.
"I don't see this as an example of games having a harder time monetizing than a few years ago," she told GameDaily via email. "This is a function that games that are very widely downloaded tend to be more casual games that have wide appeal, are more snackable, have lower ARPU vs those that top in revenue tend to be more core games (deeper immersion among smaller number of gamers that seek to conquer the game, opponents, etc. –> higher ARPU)."
With the decade now coming to a close, developers will be looking back on what they've learned over the past ten years, the trends that will carry into the start of the 2020s, and the lessons they've learned within the time period. Levitas said the next ten years should be as exciting as the past ten years thanks to the advancement of certain technologies such as 5G and evolving business models.
"The decade ahead for game publishers will be similarly exciting to the past 10 years. Historically, game publishers have relied almost exclusively on IAP (in-app purchases) in mobile games, but advertising is becoming more and more important to drive (or expand) monetization. Genres continue to evolve."
Given that Apple's App Store itself is only a little over a decade old, having launched back in 2008, the mobile game space is still evolving and there are many technological developments and business model approaches that game publishers will no doubt be taking a hard look at in the coming years.
Levitas continued, "Hypercasual games have been a somewhat recent phenomenon and cross-platform games are becoming critical for core games and likely to become even more important for casual games over time. Subscriptions have done very well in other areas of mobile (dating, music, video, etc.), but we are just kicking off mobile gaming via subscription models; this allows for another revenue source and one that will also encourage new genres, new audiences, and new modes of gameplay. Additionally, 5G will allow game publishers to deliver even better cross-platform game experiences."
The mobile market continues to grow by leaps and bounds, as nearly everyone across the globe has access to smartphones. Newzoo expects the mobile game industry to be worth $70 billion this year alone. Who knows how high it could be in another decade and which new mobile blockbusters will populate App Annie's charts?