Analytics group Stream Hatchet has released a report examining the biggest trends in competitive streaming from 2019, and the data points to YouTube's increasingly prominent role in the livestreaming arena. According to the report, YouTube claimed just over 20% of last year's total livestreaming viewership. The platform has slightly managed to cut into Twitch's near-ubiquitous status as the premier livestreaming service, even if the gain wasn't major.
"The live gaming industry is quickly evolving. Twitch remains the market leader in watch time, but YouTube and Facebook Gaming are racing to catch up," Darren Cox, CEO of Torque Esports, which owns Stream Hatchet, said in a statement.
In 2019, monthly hours watched on Twitch fell by about 10%, while YouTube and Facebook grew by 24% and 83%, respectively. Twitch still sits comfortably atop the pack, but it no longer seems infallible in that regard. For its part, YouTube recently snagged the livestreaming rights to the Overwatch League, a deal worth a reported $160 million.
"From a macro market perspective, this a big moment in esports history. This is the first time a tier one western game developer has gone exclusive with one of its products off of Twitch since ironically Activision did so with Call of Duty fiveish years ago. For YouTube, it's a real statement of intent for them to bolster a growing product," Stuart Saw, former Director of Strategy at Twitch and currently SVP of Esports at Endeavor, said at the time.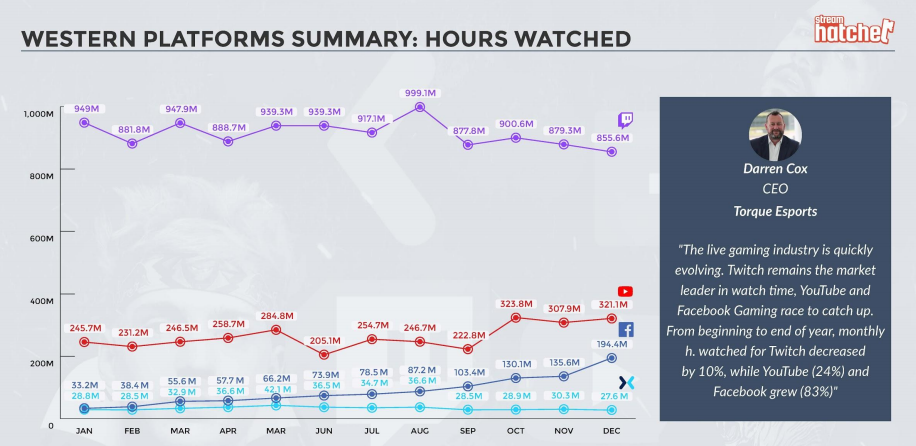 Stream Hatchet reports that not all platforms have gained ground on Twitch, however. Microsoft's Mixer actually saw a drop in viewership in 2019, according to the stats. In January of last year, Mixer boasted 28.8 million hours watched, which dropped to 27.6 million by December.
"We believe there are several factors that are inhibiting Microsoft from disrupting the streaming market," Stream Hatchet director of strategic partnerships Bobby Baird told GameDaily via email. "Late mover disadvantage compared to Twitch conquering first, YouTube owning VoD, and Facebook owning social. Additionally, we see a lack of synergy between Microsoft assets (esports, games pass, cloud gaming, etc.) that could provide a greater advantage to Microsoft in taking over the gaming market."
Mixer's decline may be slight, but it's notable thanks to some heavy-hitting marketing moves made last year. Mixer signed a number of high-profile streamers to exclusivity deals, such as Gothalion, Shroud, and Ninja, whose deal was reportedly worth upwards of $30 million.
Stream Hatchet's data ehoes much of what StreamElements reported in December. At that time, StreamElements CEO Doron Nir said that Mixer and Facebook Gaming showed employed varied strategies for growing their audience in 2019.
"Mixer and Facebook Gaming took different approaches," Nir told GameDaily. "Mixer was successful at building a lot of small communities with a good word-of-mouth, while reducing a lot of friction around the process of going live. Their success, more than anything else, comes from their connection with Microsoft and Xbox."
Games-wise, it was Riot's League of Legends that brought in the most hours watched. "2019 was a very successful year for the game," Cox said. "[Thanks to] the record-setting World Championship, increased viewership, and interest in the game increasing with Riot Games' announcement of the release of new games related to the League of Legends universe on the game's tenth anniversary."
Baird explained that LoL's popularity stems from Riot's early adoption of the free-to-play business model, and from the polished core gameplay design.
"League of Legends is a game that has emphasized the mechanical gameplay elements in such a way that playing the game never gets old. It's the modern version of chess," Baird said.
Elsewhere, while Fortnite saw some decline in viewership, Stream Hatchet notes that the battle royale titan is still going strong. In October, viewership peaked thanks to the marketing surrounding the launch of Fortnite Chapter 2, which followed a 24-hour blackout. Last year, Fortnite was the most-watched game across all livestreaming platforms, followed closely by League of Legends.
As the focus of Stream Hatchet's report is esports, the company tracked viewership of major events held throughout the year. It was League of Legends' World Championship that attracted the most eyes; viewers watched for nearly 110 million hours during the event's run from October 2nd to November 10th. The Overwatch League regular season came in second with 73.5 million hours from February to August, followed by Dota 2's The International with nearly 70 million hours watched during August.
"We believe the esports industry is growing at an exponential rate," Baird explained. "While our expertise is not on industry revenues, we believe that viewership growth trends–and the associated value of media rights–will continue to launch the industry into the billion-dollar ballpark."
All this points to the rapidly-growing popularity of esports, which Newzoo estimates will be a $1.1 billion market this year. Last month, Riot Games and data aggregation company Nielsen reported that League of Legends is the third-most popular pro sports league in the US. With viewership steadily on the rise, and esports prize pools bigger than they've ever been, 2020 is likely to be the biggest year for esports so far.