Last night's Game Awards show was a flurry of game announcements tantamount to what we'd expect from an E3 press conference, in addition to a celebration of 2018's games and the industry professionals who bring them to life. There was a lot to be excited about (hello Marvel Ultimate Alliance 3), but there are some finer nuances to how the show rolled out that deserve further examination.
Geoff Keighley has been hosting this iteration of The Game Awards since 2014, after leaving Spike's Video Game Awards in 2013. Keighley's approach has become more focused on the developers and teasing out the humanity in the industry, without losing the fans in the process. 2018's Game Awards saw the industry coming together in a way that it hasn't before, at least not on a public stage.
On center stage, for the first time ever, The Game Awards brought the three gaming "heads of state" together: Shawn Layden, head of Sony Interactive Entertainment, Phil Spencer, head of Xbox, and Reggie Fils-Aimé, head of Nintendo America. And there they stood right next to one another, a bit stilted in places, but Spencer's affable composure lent the unlikely trio a bit of charming levity.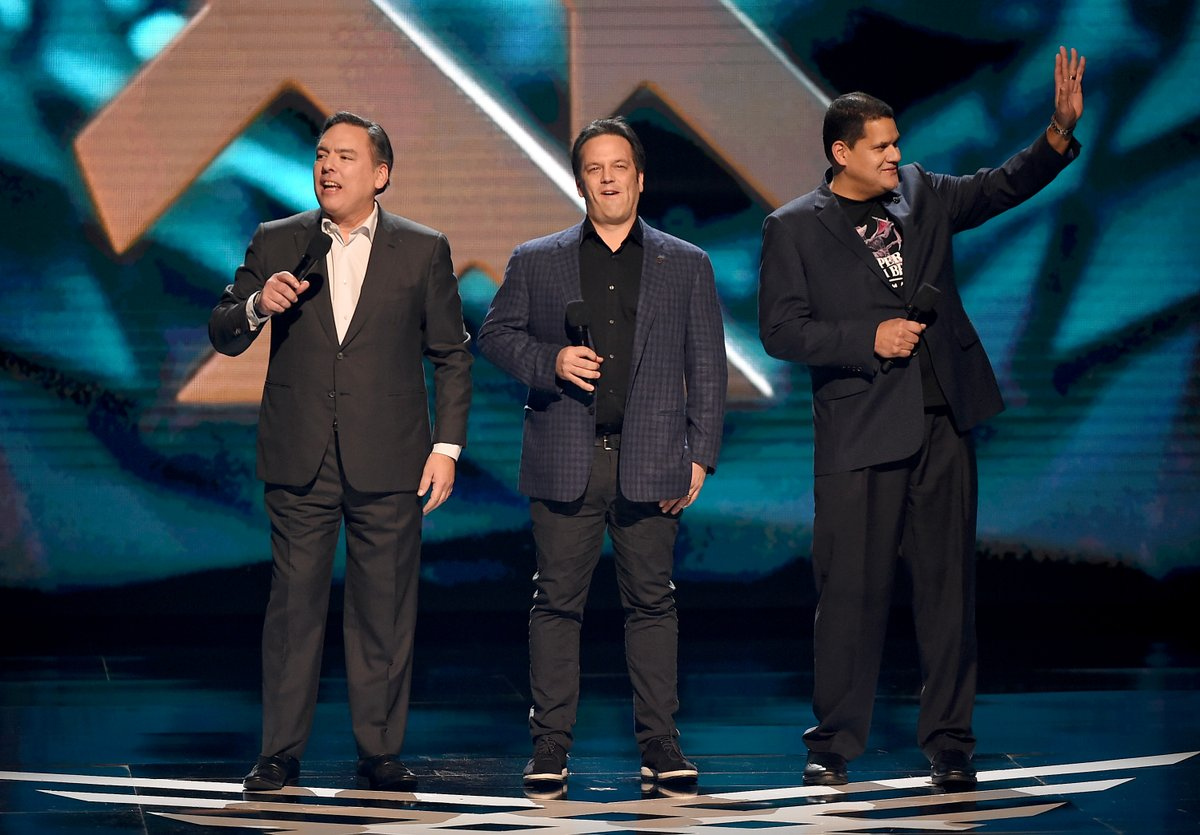 Their introduction set a tone for an evening that tried its very best to live up to the message that Spencer has been actively shepherding for the last four years: gaming is for everyone. The night wore on, implacable in its delivery and unstoppable in the sheer volume of exclusive reveals. But despite Keighley's best intentions, there's still room for improvement in the way the awards were delivered (and by whom).
We've talked about the importance of diversity and representation for game sales. More than that, instilling diversity in the game industry (and its community) starts at the beginning: our role models, who we have to look up when we're impressionable enough for it to matter the most. If someone had fired up The Game Awards stream last night, they might believe that it was homogenous. If said someone were unfamiliar with the wide variety of wonderful people that work in the game industry, they might believe that games aren't for them.
And, of course, they'd be wrong. Games are for everyone, as we know.
It's not to say that The Game Awards was without its touching moments.
Last year, Steven Spohn, COO of AbleGamers, was nominated for the Trending Gamer Award and was unfortunately outed by streamer, Dr. Disrespect. It caused some heady debate about what a Trending Gamer should be, especially with the two gamers in question in stark contrast with one another.
Thankfully, this year's Game Awards gave Spohn another chance to be nominated. This time, he was nominated in the Global Game Citizen category. And much to our collective happiness, Spohn was recognized for the incredible work that he does with AbleGamers, in addition to his overwhelming positivity in the community.
Spohn's win heralds a positive change of The Game Awards and certainly picks up on Layden, Spencer, and Fils-Aimé's introduction to the ceremonies: celebrating positivity, dedication, and ferocious dedication to ensuring gaming is for everyone. That's certainly what Spohn (and AbleGamers) aims to do.
As a magical, wonderful aside in the world of esports, SonicFox was awarded with the Best Esports Player award for 2018. As SonicFox, whose real name is Dominique McLean, took the stage, he did so in full costume as his "fursona" (as McLean is part of the furry community). McLean's acceptance speech was joyous and absolutely unabashed. McLean is a four-time EVO champion and is an active member of the Fighting Game Community, which is a notoriously toxic place to hang out, especially if you stand out like McLean does.
McLean's acceptance speech highlighted the ways in which he celebrates himself: gay, black, and a furry. It was one of the most earnest, irreverent acceptance speeches I've ever seen — the kind of acceptance speech you could only see in video games (certainly not in film or television… or even during The Tony's). That level of comfort, which should absolutely be the norm, is so refreshing that he became an instant favorite, even among those of us who aren't part of the FGC or aren't particularly into esports.
A 20-years-old, McLean has a lot of game left in him and we can't wait to see what he does next. Best believe we'll be watching EVO 2019 to make sure we cheer him on.
And, of course, one of the most heartfelt moments of the evening went to God of War's director, Cory Barlog. Barlog's emotional reaction to the overwhelmingly positive feedback around God of War may have been a cultural tipping point earlier this year — a tip over the edge where being emotional and engaging with fans in an emotional capacity was not just acceptable, it was encouraging. (Barlog and I participated in a Love Letters panel together at PAX and his was as heartfelt and beautiful as you'd hope.)
God of War won two awards last night, Best Game Direction and Game of the Year, and Barlog's speech (embedded below) was wonderfully heartfelt. He heaped praise on everyone but himself, in true Barlog fashion.
It was a well-deserved win, especially when God of War was pitted against two other industry behemoths: Spider-Man and Red Dead Redemption 2.
And, of course, there was an adorable appearance by Christopher Judge (Kratos) and Sunny Suljic (Atreus) that made the crowd (and Twitter) go absolutely wild.
The Game Awards have started to feel like a good scotch — it's going to take time for it to come of age and be as smooth as it should be in order to carry the enormous mosaic of achievements in the game industry. But if Keighley continues to improve on the flavor, there's a beautiful future ahead for The Game Awards, with the distinct possibility of it truly becoming the game industry's answer to the Oscars.
Full List of The Game Awards Winners
Game of the Year
Assassin's Creed Odyssey (Ubisoft Quebec / Ubisoft)
Celeste (Matt Makes Games)
Winner: God of War (Sony Santa Monica / SIE)
Marvel's Spider-Man (Insomniac Games / SIE)
Monster Hunter: World (Capcom)
Red Dead Redemption 2 (Rockstar Games)
Best Ongoing Game
Destiny 2 (Bungie / Activision)
Winner: Fortnite (Epic Games)
No Man's Sky (Hello Games)
Overwatch (Blizzard)
Tom Clancy's Rainbow Six Siege (Ubisoft Montreal / Ubisoft)
Best Game Direction
A Way Out (Hazelight Studios / EA)
Detroit: Become Human (Quantic Dream / SIE)
Winner: God of War (Sony Santa Monica / SIE)
Marvel's Spider-Man (Insomniac Games / SIE)
Red Dead Redemption 2 (Rockstar Games)
Best Narrative
Detroit: Become Human (Quantic Dream / SIE)
God of War (Sony Santa Monica / SIE)
Life is Strange 2: Episode 1 (Dontnod Entertainment / Square Enix)
Marvel's Spider-Man (Insomniac Games / SIE)
Winner: Red Dead Redemption 2 (Rockstar Games)
Best Art Direction
Assassin's Creed Odyssey (Ubisoft Quebec / Ubisoft)
God of War (Sony Santa Monica / SIE)
Octopath Traveler (Square Enix / Acquire / Nintendo)
Red Dead Redemption 2 (Rockstar Games)
Winner: Return of Obra Din (3909 LLC)
Best Score/Music
Celeste (Lena Raine)
God of War (Bear McCreary)
Marvel's Spider-Man (John Paesano)
Ni No Kuni II (Joe Hisaishi)
Octopath Traveler (Yasunori Nishiki)
Winner: Red Dead Redemption 2 (Woody Jackson)
Best Audio Design
Call of Duty: Black Ops 4 (Treyarch Studios / Activision)
Forza Horizon 4 (Playground Games / Turn 10 Studios / Microsoft Studios)
God of War (Sony Santa Monica / SIE)
Marvel's Spider-Man (Insomniac Games / SIE)
Winner: Red Dead Redemption 2 (Rockstar Games)
Best Performance
Bryan Dechart as Connor, Detroit: Become Human
Christopher Judge as Kratos, God of War
Melissanthi Mahut as Kassandra, Assassin's Creed Odyssey
Winner: Roger Clark as Arthur Morgan, Red Dead Redemption 2
Yuri Lowenthal as Peter Parker, Marvel's Spider-Man
Games For Impact
11-11 Memories Retold (Digixart / Aardman Animations / BANDAI NAMCO Entertainment)
Winner: Celeste (Matt Makes Games)
Florence (Mountains / Annapurna Interactive)
Life is Strange 2: Episode 1 (Dontnod Entertainment / Square Enix)
The Missing: JJ Macfield and the Island of Memories (White Owls / Arc System Works)
Best Independent Game
Winner: Celeste (Matt Makes Games)
Dead Cells (Motion Twin)
Into the Breach (Subset Games)
Return of the Obra Dinn (3909 LLC)
The Messenger (Sabotage Studio)
Best Mobile
Donut County (Ben Esposito / Annapurna Interactive)
Winner: Florence (Mountains / Annapurna Interactive)
Fortnite (Epic Games)
PUBG MOBILE (Lightspeed & Quantum / Tencent Games)
Reigns: Game of Thrones (Nerial / Developer Digital)
Best VR/AR Game
Winner: ASTRO BOT Rescue Mission (SIE Japan Studio / SIE)
Beat Saber (Beat Games)
Firewall Zero Hour (First Contact Entertainment / SIE)
Moss (Polyarc Games)
Tetris Effect (Resonair / Enhance, Inc)
Best Action Game
Call of Duty: Black Ops 4 (Treyarch / Activision)
Winner: Dead Cells (Motion Twin)
Destiny 2: Forsaken (Bungie / Activision)
Far Cry 5 (Ubisoft Montreal / Ubisoft)
Mega Man 11 (Capcom)
Best Action/Adventure Game
Assassin's Creed Odyssey (Ubisoft Quebec / Ubisoft)
Winner: God of War (Sony Santa Monica / SIE)
Marvel's Spider-Man (Insomniac Games / SIE)
Red Dead Redemption 2 (Rockstar Games)
Shadow of the Tomb Raider (Eidos Montreal / Crystal Dynamics / Square Enix)
Best Role Playing Game
Dragon Quest XI: Echoes of an Elusive Age (Square Enix / Square Enix)
Winner: Monster Hunter: World (Capcom)
Ni no Kuni II: Revenant Kingdom (Level 5 / BANDAI NAMCO Entertainment)
Octopath Traveler (Square Enix / Acquire / Nintendo)
Pillars of Eternity II: Deadfire (Obsidian Entertainment / Versus Evil)
Best Fighting
BlazBlue: Cross Tag Battle (Arc System Works)
Winner: Dragon Ball FighterZ (Arc System Works / BANDAI NAMCO Entertainment)
Soul Calibur VI (Bandai Namco Studios / BANDAI NAMCO Entertainment)
Street Fighter V Arcade (Dimps / Capcom)
Best Family Game
Mario Tennis Aces (Camelot Software Planning / Nintendo)
Nintendo Labo (Nintendo EPD / Nintendo)
Winner: Overcooked 2 (Ghost Town Games / Team 17)
Starlink: Battle for Atlas (Ubisoft Toronto / Ubisoft)
Super Mario Party (NDCube / Nintendo)
Best Strategy Game
BATTLETECH (Harebrained Schemes / Paradox Interactive
Frostpunk (11 bit studios)
Winner: Into the Breach (Subset Games)
The Banner Saga 3 (Stoic Studio / Versus Evil)
Valkyria Chronicles 4 (Sega CS3 / Sega)
Best Sports/Racing
FIFA 19 (EA Vancouver / EA Sports)
Winner: Forza Horizon 4 (Playground Games / Turn 10 Studios / Microsoft Studios)
Mario Tennis Aces (Camelot Software Planning / Nintendo)
NBA 2K19 (Visual Concepts / 2K Sports)
Pro Evolution Soccer 2019 (PES Productions / Konami)
Best Multiplayer Game
Call of Duty: Black Ops 4 (Treyarch / Activision)
Destiny 2: Forsaken (Bungie / Activision)
Winner: Fortnite (Epic Games)
Monster Hunter: World (Capcom)
Sea of Thieves (Rare / Microsoft Studios)
Best Student Game
Winner: Combat 2018 (Inland Norway University of Applied Sciences – Norway)
Dash Quasar (UC Santa Cruz)
JERA (Digipen Bilbao, Spain)
LIFF (ISTART Digital – France)
RE: Charge (MIT)
Best Debut Indie Game
Donut County (Ben Esposito / Annapurna Interactive)
Florence (Mountains / Annapurna Interactive)
Moss (Polyarc Games)
Winner: The Messenger (Sabotage Studio)
Yoku's Island Express (Villa Gorilla)
Esports Awards
Best Esports Game
CSGO
DOTA2
Fortnite
League of Legends
Winner: Overwatch
Best Esports Player
Winner: Dominique "SonicFox" McLean (Echo Fox)
Hajime "Tokido" Taniguchi
Jian "Uzi" Zi-Hao (Royal Never Give Up)
Oleksandr "s1mple" Kostyliev (Natus Vincere)
Sung-hyeon "JJoNak" Bang (New York Excelsior)
Best Esports Team
Astralis (CSGO)
Winner: Cloud9 (LOL)
Fnatic (LOL)
London Spitfire (OWL)
OG (DOTA2)
Best Esports Coach
Winner: Bok "Reapered" Han-gyu (Cloud9)
Cristian "ppasarel" Bănăseanu (OG)
Danny "zonic" Sørensen (Astralis)
Dylan Falco (Fnatic)
Jakob "YamatoCannon" Mebdi (Team Vitality)
Janko "YNk" Paunovic (MiBR)
Best Esports Event
ELEAGUE Major: Boston 2018
EVO 2018
Winner: League of Legends World Championship
Overwatch League Grand Finals
The International 2018
Best Esports Host
Alex "Goldenboy" Mendez
Alex "Machine" Richardson
AndersBlume
Winner: Eefje "Sjokz" Depoortere
Paul "RedEye" Chaloner
Best Esports Moment
Winner: C9 Comeback Win In Triple OT vs FAZE (ELEAGUE)
KT vs IG Base Race (LOL Worlds)
G2 Beating RNG (LOL Worlds)
OG's Massive Upset of LGD (DOTA 2 Finals)
SonicFox Side Switch Against Go1 in DBZ (EVO)
Community Award
Content Creator of the Year
Dr. Lupo
Myth
Winner: Ninja
Pokimane
Willyrex