Niko Partners, the games industry analyst group that focuses primarily on Asian markets, has launched a China games streaming tracker, which collects data from the region's most popular streaming services. Tracked platforms include Huya, Bilibili, and Douyu, the latter of which is China's largest platform.
March is the first month for which Niko has published its findings, and it shouldn't come as a surprise that Tencent and NetEase dominated the charts on Douyu. Mobile MOBA Honor of Kings took the top spot as the most popular game on the platform, with 469,326 hours streamed in March. It's notable that the PUBG and League of Legends, which came in second and third place, respectively, both saw more streaming hours, but Honor of Kings was highest on Douyu's "heat index."
The heat index is a measure of popularity on Douyu, and the number is an aggregation of several factors, such as streaming hours watched, search terms, and more.
"The heat index is a Douyu index, however on Douyu it is constantly changing based on minute-to-minute site info," Niko Partners senior analyst Daniel Ahmad told GameDaily. "Niko Partners collects that data for 24 hours and then produces an average for the day, and then for the week. Douyu's heat index is derived from an algorithm based on each game's number of viewers, hours streamed and number of virtual gifts [and] tips."
Honor of Kings' 81.3 million heat index is far and away the highest for March. Honor of Kings also boasts an auto-chess component, which itself placed 20th as the most popular game on Douyu last month.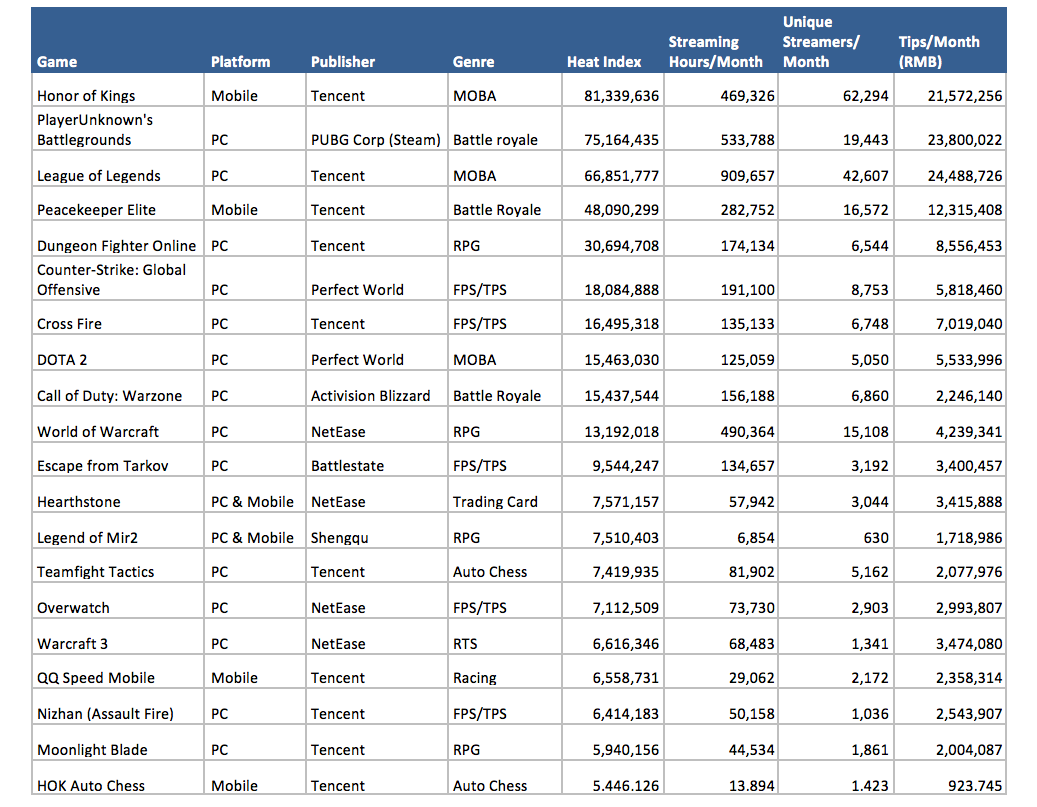 Of the top 20 games, 14 were from either Tencent or NetEase. Together, these two tech giants make up an enormous portion of the Chinese games market. For its part, NetEase generated more than $6.5 billion in revenue last year, which made it more profitable than both EA and Activision Blizzard. NetEase publishes and operates World of Warcraft for Blizzard in China; that game placed 10th on Niko Partners' Douyu charts.
"NetEase has been taking a more global approach to game development and distribution, to the point where it has launched some games outside of China first," Ahmad told GameDaily in February. "The company has a strong reputation for high quality self developed titles and has found success with games such as Knives Out and Identity V overseas."
One of the more notable statistics in Niko's data is that Douyu's charts boast a strong mobile presence. Ahmad pointed out that mobile gaming is the fastest-growing segment in China, and mobile esports is one of the key drivers. This is a far cry from what we typically see in western markets on platforms like Twitch and YouTube.
"The top games on Twitch tend to skew towards PC and console games whilst the rise of mobile esports in Asia has led to a number of mobile games topping the game live-streaming charts in China," Ahmad explained.
Ahmad said that while western streaming platforms have only just begun to recognize the value in signing exclusivity deals with the most popular livestreamers, China has been on board for some time now.
"Whilst we have only just started to see Twitch, Facebook, Mixer and other platforms in the west acquire the rights to esports broadcasting and sign streamers to their platforms, this is something that Chinese game livestreaming platforms have been engaging in for years," Ahmad explained. "This has led to recent consolation of the market with Panda TV closing down last year whilst Douyu, Huya and Bilibili continue to grow."
Another trend that Ahmad noticed while gathering Douyu's data is that there exists a fairly balanced combination of legacy games and new titles.
"Titles such as League of Legends and World of Warcraft which were released more than a decade ago being key examples," he said. "We see this repeated in the mobile space with Honor of Kings which released in 2016. Whilst these titles have been around for years, there is still room for new titles to find success as we see with Peacekeeper Elite, CoD Warzone and others."
The Chinese games market is the largest in the world, and it's interesting to see how the trends differ between there and the U.S. Mobile gaming is clearly more popular in China, but the dominant presence of Tencent and NetEase is near-universal. It will be fascinating to keep an eye on Niko's data as quarantine efforts against the coronavirus roll along in the coming months.