Xbox just wrapped up its X018 event in Mexico City, the fourth annual Xbox Fanfest that saw over 10,000 fans in attendance. The biggest news by far was Microsoft's continued quest to bolster its first-party studio system. Matt Booty, Corporate Vice President of Microsoft Studios, announced the company's intent to acquire both inXile Entertainment, the Bard's Tale and Wasteland developer formed by veteran Brian Fargo in 2002, and Obsidian Entertainment, which GameDaily contributor Mike Futter correctly guessed would happen.
Obsidian and inXile have some shared history as the former was founded in 2003 by members of Black Isle Studios, which was a subsidiary of Brian Fargo's Interplay. They've maintained a friendship over the years, and in 2013 Obsidian and inXile even agreed to share tools and tech.
Booty said in a statement, "inXile Entertainment is a team of industry veterans with decades of PC and RPG expertise. Led by Interplay founder Brian Fargo, inXile's two development teams in Newport Beach, Calif. and New Orleans excel at creating vast worlds for players to explore with titles such as Wasteland 2, Torment: Tides of Numenera, Bard's Tale IV and the upcoming Wasteland 3.
"The team at inXile has earned a distinguished reputation for creating deep, engaging role-playing games. As part of Microsoft Studios, inXile will have the support and freedom to fully realize its creative ambitions on both existing franchises and new projects. The studio will continue to operate autonomously and bring its unique talents, IP and expertise to Microsoft Studios as they build new RPG experiences for our players and fans."
GameDaily reached out to Fargo for additional comment but did not receive a response as of publication time. We also asked Microsoft when it expects this deal to be finalized and if it means inXile will now have the resources to work on bigger budget triple-A projects (not just mid-tier) but the company declined to provide further information at this time.
That said, in a video produced by inXile, Fargo commented on being able to make games with a better production pipeline and "to spend all of our energy crafting the game experience… The bottom line is we'll be able to make games we'd never have been able to make otherwise." He also noted that he now "won't be retiring anytime soon," despite having said in 2017 that he'd retire after Wasteland 3 was completed.
As for Obsidian, the studio initially made its claim to fame with Xbox exclusive Star Wars: Knights of the Old Republic II: The Sith Lords. The developer has grabbed RPG fans' attention over the years with a variety of games like Fallout: New Vegas, South Park: The Stick of Truth, and Pillars of Eternity.
"As one of the industry's premiere RPG developers, we couldn't be more excited about the opportunity to add [Obsidian's] expertise to Microsoft Studios, while enabling the studio to preserve its unique culture and build on its talent and vision to fully realize their creative ambitions," Booty said.
"While [Obsidian and inXile] do share a common heritage, the two creative teams at Obsidian and inXile are very different. They will continue to operate autonomously and bring their unique talents, IP, and expertise to Microsoft Studios as they build new RPG experiences for our players and fans."
Curiously, Obsidian co-founder Chris Avellone, who left the studio in June 2015 and worked on Divinity: Original Sin II for Larian Studios, tweeted only a few days ago directly at Xbox head Phil Spencer: "If you ARE doing a deal with Obsidian Ent., I'd really, really look at Pillars of Eternity sales figures (which Fig has indirectly revealed this month, and tried to be cagey about it). Good devs there, terrible management – Hire the devs, fire the chaff at the top."
This should be taken with a grain of salt, but a separate thread on Twitter from one of the Fig investors seems to imply that Pillars of Eternity has only sold 110,000 copies and needs around 580,000 to break even. The investor contributed $1,000 and is worried about recouping the rest — so far, he claims to have gotten back $192.67. The larger point that Avellone is making, however, is that management is not doing a good job. In fact, Avellone also points to a Glassdoor reviews page for Obsidian and alleged that the studio culture is broken. "People are definitely treated differently, and not solely along gender lines: There's favoritism and nepotism, which makes the work environment worse," he tweeted.
In the same Twitter thread, Avellone continued to cast shade on his former studio, noting that Obsidian "routinely burns bridges… it's why no publisher works with them twice," and he said that the deal with Microsoft would ultimately be bad for both parties. "The difference is in terms of damage, Microsoft has more hit points. I think the only winners will be Obsidian's management in the short term," he said.
GameDaily has asked Microsoft if all management and staff are remaining in place at Obsidian, and a spokesperson did respond in the affirmative: "There are no changes planned for the Obsidian team. We are committed to empowering the studio to maintain its independent, creative culture."
For Microsoft Studios these two acquisitions represent another huge move to strengthen its first-party studio system and portfolio as a whole. Coming into 2018, Xbox had been much maligned for its weak first-party that primarily consisted of Halo, Forza, Gears of War and Rare's efforts like Sea of Thieves. In one fell swoop at E3 in June, however, Xbox boss Phil Spencer announced four major acquisitions — Undead Labs, Playground Games, Ninja Theory and Compulsion Games — and the formation of another first-party studio called The Initiative, led by former Crystal Dynamics head Darrell Gallagher.
Combining all that talent with both inXile and Obsidian now, and it's legitimately hard to knock Microsoft's first-party. It may not quite match what Sony's first-party has to offer just yet, but it's much, much stronger than it was mere months ago.
"The 13 distinct and diverse game development teams that form Microsoft Studios are focused on implementing new Microsoft technologies, delivering content for new platforms and services like Xbox Game Pass, and creating exclusive games that turn players into loyal Xbox fans," Booty continued. "We are committed to expanding the Microsoft Studios franchises players already love, and investing in new, exclusive content for every type of gamer.
"It is a genuine pleasure to welcome inXile Entertainment to the growing Microsoft Studios team and work with them to deliver bigger and more ambitious games for their fans. I'm excited to see the team maximize its potential at Microsoft and can't wait for what the future has in store."
Spencer hinted back in September that the Microsoft Studios buying spree was likely not over, and it's unclear if Xbox is still seeking to acquire even more studio talent. And it's worth remembering that some studios may be wary of selling out to Microsoft given the company's checkered past with shutdowns of FASA, Ensemble and Lionhead.
As Jordan Weisman of Harebrained Schemes told GameDaily, "The reality is that nothing but a lightning in a bottle hit can create true stability for an independent studio, and thus there is attraction in the stability that becoming part of a larger studio can provide. But that stability can sometimes be a mirage based upon how the larger company views and manages their studios."
Xbox Game Pass expands with PUBG, Crackdown 3 and more
It's become clear that Microsoft has become more and more focused on the subscription model. Xbox Game Pass may be one of Microsoft's most important gaming initiatives in years, and it's an approach that seems to be working. The $10 per month, Netflix-style subscription is expanding to the PC as well and Microsoft's going to continue to need exclusive content to drive adoption, making the aforementioned studio system expansion all the more important.
At X018, Microsoft revealed that 16 more games are coming to Xbox Game Pass, including heavy hitters like PUBG (November 12), Ori and the Blind Forest and Hellblade: Senua's Sacrifice (both in December) and the oft-delayed Crackdown 3 finally landing on February 15. To drum up excitement for the release, Microsoft is making the original Crackdown (with Xbox One X enhancements) available for free until November 30.
GameDaily asked Microsoft about the growth of the Xbox Game Pass and how it's helping the Xbox platform to gain a better foothold with consumers. Needless to say, the company wouldn't give us hard data, but a spokesperson commented:
"While we aren't disclosing subscriber numbers, we've been thrilled by the response with Xbox Game Pass to date. After joining Xbox Game Pass, we are seeing members increase their total time gaming on Xbox by almost 20 percent more than before, as well as increase their total number of games played by almost 40 percent, including titles outside the Xbox Game Pass catalog. As a result, this is driving higher levels of engagement for gamers and new opportunities for our partners."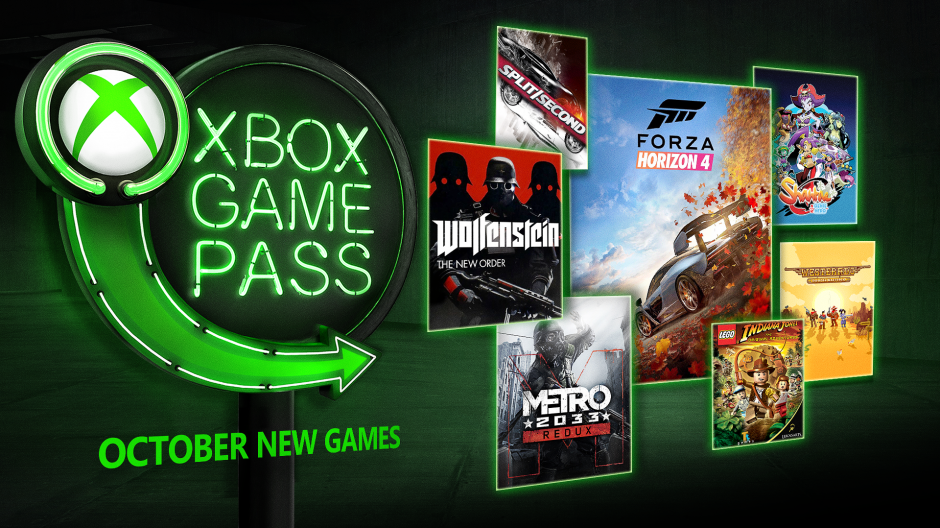 If you're new to the Xbox ecosystem, Xbox Game Pass definitely provides a lot of value with over 100 titles in the library to choose from. For the holiday season, Microsoft is looking to entice even more players to join up by offering a special dollar deal. Starting today through January 3, anyone can sign up for Xbox Game Pass and receive their first full month for just $1.
And Xbox Game Pass is not just about amplifying the triple-A or double-A games on the market. Microsoft is aiming to create some synergy between Xbox Game Pass and ID@Xbox, which has generated $1 billion in revenue since 2013.
Ashley McKissick, Head of Xbox Game Pass, confirmed that a number of new games from indies that are launching through the ID@Xbox program will also come to Xbox Game Pass the very same day they debut on Xbox One. So far, the list of indie games coming to both programs this holiday includes: Aftercharge, Supermarket Shriek, Mutant Year Zero, Pathologic 2, The Good Life, Void Bastards, and Secret Neighbor.
Other notable news from X018
Xbox Game Pass is now available as an app on iOS and Android, enabling people to manage their libraries and download games straight to their Xbox consoles via the app.
Backwards Compatibility: Final Fantasy XIII, Final Fantasy XIII-2 and Lightning Returns: Final Fantasy XIII will be compatible starting November 13 while Civilization Revolution will be receiving an Xbox One X Enhanced update.
Microsoft's "biggest Black Friday sale ever" will offer consumers $100 off "select" Xbox consoles and bring the Xbox One X to a new low price of $399.
Forza Horizon 4 is getting its first DLC expansion, "Fortune Island," on December 13.
Minecraft had a record-breaking year with 91 million monthly players, and Minecraft Marketplace reached 77 partners who have driven more than 13 million purchases for their creations since it launched last June.
Sea of Thieves is getting its fifth free content update since launch. 'The Arena' is set for early 2019 and gives players an all-new competitive game mode to play against rival pirate crews.