Xbox Series X will "deliver a true generational leap in processing and graphics power" when it launches this holiday season, Microsoft said in a blog post to confirm the next-gen console's tech specs today. Many of the Series X details had already been hinted at since the console was unveiled at The Game Awards, but now Xbox has eked out a few more details. Xbox Series X will offer 12 teraflops of power from its GPU, support for HDMI 2.1, 120 fps, SSD storage, variable rate shading, and raytracing. There's also a nifty quick resume feature to keep multiple games in a suspended state similar to apps on a phone.
While Microsoft claims that Series X's graphical prowess will be more than eight times that of Xbox One and around twice as powerful as Xbox One X, what's arguably more important is the continued evolution of the Xbox business into a fully cross-generational ecosystem.
"Our commitment to compatibility means existing Xbox One games, including backward-compatible Xbox 360 and original Xbox games, look and play better than ever before. Your favorite games, including titles in Xbox Game Pass, benefit from steadier framerates, faster load times and improved resolution and visual fidelity – all with no developer work required. Your Xbox One gaming accessories also come forward with you," said Xbox boss Phil Spencer.
Part of this ecosystem strategy is supported by a new feature dubbed "Smart Delivery," which effectively means that Xbox customers will no longer have to repurchase newer versions of games they already own just to get next-gen enhancements… if third parties choose to support the feature.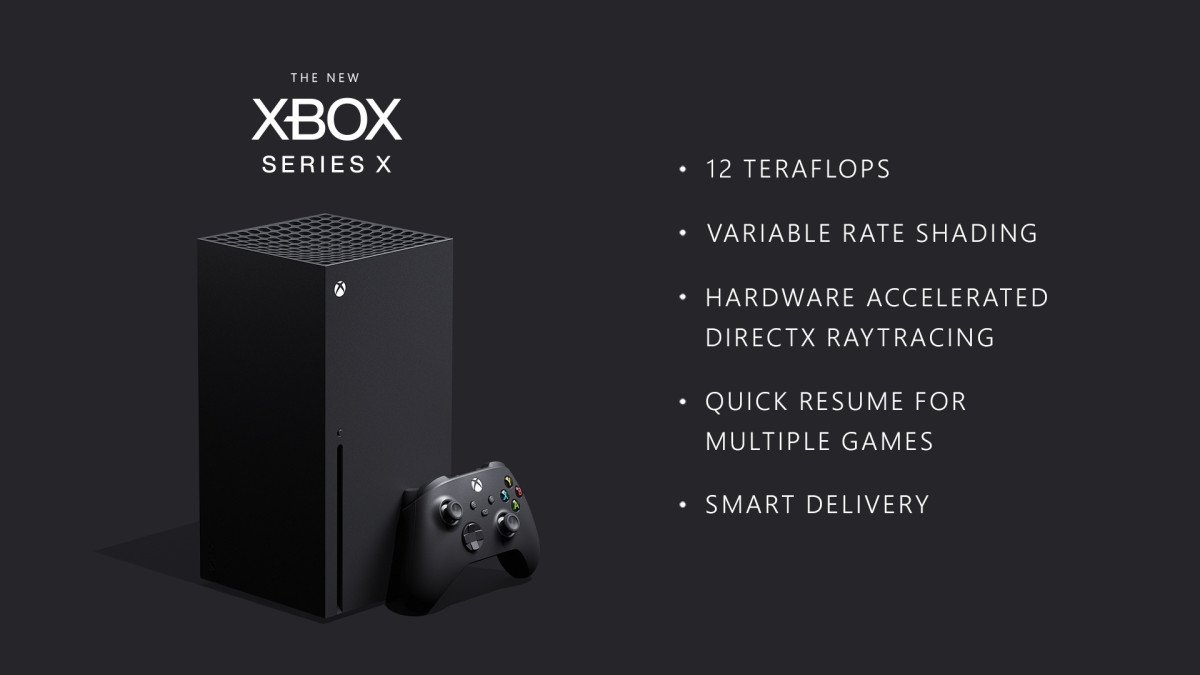 "This technology empowers you to buy a game once and know that – whether you are playing it on Xbox One or Xbox Series X – you are getting the right version of that game on whatever Xbox you're playing on," Spencer explained. "We're making the commitment to use Smart Delivery on all our exclusive Xbox Game Studios titles, including Halo Infinite, ensuring you only have to purchase a title once in order to play the best available version for whichever Xbox console they choose to play on. This technology is available for all developers and publishers, and they can choose to use it for titles that will be release[d] on Xbox One first and come to the Xbox Series X later."
While Smart Delivery is an optional feature, it's a customer friendly option that many third-party developers and publishers are likely going to want to support. CD Projekt Red was one of the first to promise support for the much anticipated Cyberpunk 2077, which launches in September. "Gamers should never be forced to purchase the same game twice or pay for upgrades. Owners of #Cyberpunk2077 for Xbox One will receive the Xbox Series X upgrade for free when available," the official Cyberpunk Twitter account tweeted today.
The announcement saw heaps of praise from the community, and some asked about PlayStation. Needless to say, CD Projekt Red cannot speak for Sony, but PS5 has already been confirmed to be backwards compatible with PS4, so it's more a question of whether Microsoft's stronger push for a cross-buy ecosystem will have an influence on Sony to do something similar.
For Carter Rogers, Principal Analyst with Nielsen's SuperData, the Smart Delivery promise could definitely start shifting the tides in the games business. "If this policy becomes the norm, it is going to be much harder for publishers to justify charging players for next-gen upgrades to existing games," he told GameDaily. "Remasters of titles like The Last of Us, The Elder Scrolls V: Skyrim and, of course, Grand Theft Auto V were hugely successful this console generation. If public sentiment turns against paid remasters, publishers are going to have to find more creative ways to monetize legacy titles. Potential options range from licensing the games out to subscription."
According to Piers Harding-Rolls, head of games research at IHS Markit, another important factor for publishers to consider in supporting something like Smart Delivery is how games-as-a-service has transformed the business. When games can live across devices and generations, it would be foolish to throw up barriers to your own audience.
"Backwards compatibility means that users can take their games to the new platform and continue playing them – charging an upgrade fee in this context just wouldn't fit. Additionally, with many titles being online services, publishers want to keep their audiences together so they can be monetised in an ongoing way – putting any hurdle in the way of keeping that audience engaged doesn't make commercial sense," he stressed.
PlayStation fans would undoubtedly be thrilled to see Sony also support a cross-buy approach, but Sony's strategy around PS5 thus far has been held fairly close to the chest. The console has yet to be officially unveiled, and with Sony skipping PAX East, GDC, and E3, it's not clear when the curtain will be lifted on PS5. Sony is still riding high on PS4, with 108 million units sold and more than 1 billion software units.
Although hardware sales matter less to Microsoft than ever before as the Xbox business has placed a priority on services like Xbox Live and Xbox Game Pass, the company is still cognizant of the fact that PS4 handily outsold the Xbox One this generation. It shouldn't be a big surprise that Xbox is looking to get a jump on PlayStation heading into next-gen.
"Microsoft seems to be a lot more aggressive when it comes to disclosing specs and details of their next-gen console. It makes sense, seeing how Sony beat them this gen. Microsoft is the challenger, and their marketing strategy so far reflects it," Kantan Games analyst Serkan Toto commented to GameDaily.
Regardless of tech specs, content is always going to be the determining factor in any race, and Toto said he was still a bit concerned about Xbox's internal studio system, even with the company having gone on an acquisition spree to bring on talented studios like Ninja Theory, inXile, Obsidian, and Double Fine. "Series X, Game Pass, or xCloud all sound great, but I am very worried that Microsoft will not be able to close the gap to Sony with regards to first-party software support," he remarked, adding that titles like Spider-Man, Last Of Us, God Of War, and Death Stranding are "on another level than Hellblade."
For Rogers, Sony's reticence about PS5 thus far may be a deliberate plan to keep its base engaged with the current generation. "Sony has more incentives to keep players focused on current consoles for as long as possible. Not only has PlayStation 4 outsold Xbox One, but it has a number of major exclusive games (Final Fantasy VII Remake, The Last of Us Part II and Ghost of Tsushima) slated for this year. Meanwhile, Xbox Game Studios is not releasing any true AAA titles until Halo Infinite," he noted.
With Xbox doubling down at E3 2020 as Sony skips the event, the Microsoft approach is all about generating continued marketing hype with a drip feed approach on details, analysts agreed.
"I think this announcement was continuing the marketing/pr hype without saying too much new," said DFC Intelligence's David Cole. "…Adding these types of technical details adds to that buzz. Like, 'Wow, did you hear about 12 teraflop gpu and 120 fps…that is sick.' It is really about feeding that fuel to keep the fire going… The strategy I see is to give a few small pieces to stoke the fire and keep it burning. All kinds of people will take those small tidbits and run wild with them."
Harding-Rolls concurred: "Microsoft has been drip feeding information about its next-gen console platform since E3 2019, and although we know the name, form factor, and specs, perhaps the most important aspects – finalised launch games and pricing – are still yet to come. This is just a different marketing and product reveal strategy from other consumer products like smartphones. In a world where things are announced and available almost immediately, this much longer slow motion reveal stands out as different. This is partly because Xbox has been through a repositioning under Phil Spencer and is much more centred on the console gamer and I think this drip-feed strategy fits with the dynamic of re-establishing its position in the market."
He added that while Microsoft is likely paying attention to Sony's own marketing strategy, the Xbox team "appears confident in its own approach and is following its own path."
Xbox fans have plenty to be excited about today, and Microsoft's marketing approach so far has been working wonders. With Spencer promising more Series X details in the coming months, the drip feed strategy is likely to produce more nuggets for fans and media alike to chew on soon.
[Update 2/25/2020] As Microsoft slowly details everything fans want to know about the Xbox Series X, game creators in the development trenches are beginning to weigh in as well. One studio that reached out to GameDaily this week was Germany's Yager, which recently received an investment from Tencent. The Spec Ops: The Line developer is currently working on The Cycle, a "quest shooter" battle royale title, and early impressions on the new Xbox from the studio appear to be fairly positive.
"In the past people often mentioned that game development for consoles was decelerating the true potential of gaming PCs when it came to multi-platform titles. With today's news, it seems that Microsoft is killing that argument by announcing these powerful and impressive specs. For me, as a dedicated long-term PC gamer, it might be the turning point to finally sit on my couch and use a controller instead," remarked Yager's Head of Publishing, Henning Schmid.
That said, Schmid did voice some concerns about increased development costs on the new Xbox and whether it would be justified. He continued, "How much will it increase the development costs for new games; and can the upcoming market share of the new consoles justify those increased costs? Especially when you consider multi-platform titles on other consoles that may not offer as much of a strong hardware powerhouse base like Microsoft. Will there be a massive enhanced Xbox version with higher development costs, or a more streamlined game which may not benefit from that increased hardware, since it will need to look identical on all platforms?"
With both Xbox Series X and PS5 launching this holiday, developers launching titles with the new consoles are going to be hard at work over the next few months. If any developers wish to chat with GameDaily about the new systems, please get in touch with us at [email protected].