The NPD Group has released its monthly report examining games industry trends for March 2020, and the numbers show a sharp rise in sales driven largely by the coronavirus pandemic. According to the report, software sales grew 34% to $739 million last month compared to March 2019, and hardware sales grew an impressive 63%. In all, the games market generated $1.6 billion, which marks a 35% increase compared to last year.
For NPD analyst Mat Piscatella, the big story is Animal Crossing: New Horizons — not only did the game top the charts for March, but it also represented the third-highest launch month sales for any Nintendo-published game in tracked history. Only Super Smash Bros. Ultimate and Super Smash Bros. Brawl debuted with higher sales in their launch months.
Another noteworthy aspect of Animal Crossing's impressive launch is the fact that Nintendo is not currently a member of NPD's Digital Leader Panel, meaning that it does not publish numbers for digital game sales, so the report only accounts for physical sales of New Horizons. In a world where lockdown orders have limited operating hours for many retail stores, and people are staying home, digital game sales are on the rise. When this is taken into account, it's easy to imagine that total sales for New Horizons are significantly higher than we see in NPD's report.
In a blog post, Piscatella said that the success of New Horizons has been brought aboutby a consumer base desperate for an idyllic escape from today's bleak environment. The conditions for its release could not have been more perfect, he said, offering a fascinating look at this specific point in time.
"There is a synthesis between this game and this time in history that will leave the two forever connected in the world of video games," Piscatella wrote. "Practicing social distancing and observing stay at home orders have motivated many people to play more video games in order to find connection. Animal Crossing: New Horizons, a game designed around developing communities and forging connections, was certainly the right game at the right time. And there's no doubt that its success helped lift an entire market beyond what would have otherwise occurred."
Piscatella told GameDaily that New Horizons' appeal is derived from players' need for community and to make human connections.
"It's further proof — at least in my mind — that gaming has evolved far beyond just an entertaining pastime," Piscatella said. "I think people are using video games right now to find connection, to feel part of communities, and to find comfort. Games are making people's lives more enjoyable, and I think that's wonderful, and sorely needed right now."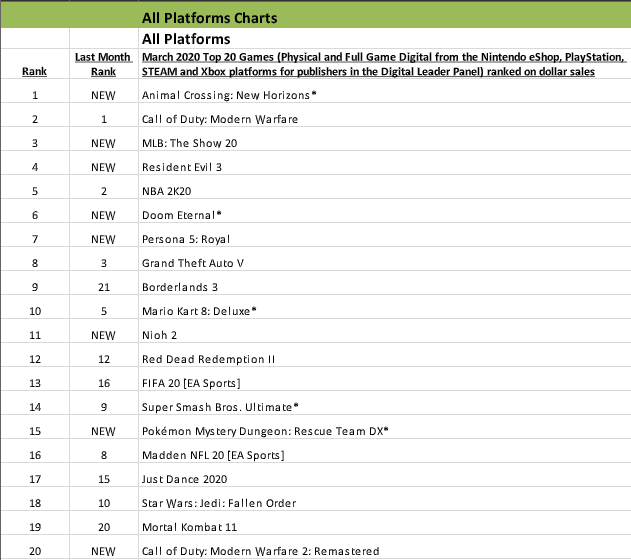 Snagging the second spot behind Animal Crossing was Call of Duty: Modern Warfare. NPD noted that it has become the best-selling game of 2020 so far, and last month was the best March the franchise has seen since 2010. Almost certainly, Warzone, the new free-to-play Call of Duty battle royale title, has helped bolster Modern Warfare sales; many of the progression systems in Warzone are tied directly to Modern Warfare ownership.
Elsewhere on the chart, Resident Evil 3 and Doom Eternal both performed well, nabbing the fourth and sixth spots, respectively. This speaks to the appeal of remakes and legacy franchises in 2020, which Piscatella said represents a relatively small risk on the part of developers and publishers.
"Remakes are a no brainer if one has the IP and the dev resources," he told us earlier this month. "If I were in slate strat planning right now, I would be pushing to capitalize on every single ounce of millennial gaming nostalgia I possibly could. It's very low-hanging fruit."
Another well-performing game for March was MLB The Show 20, which came in at number three on NPD's chart. The report notes that The Show 20 has become the fastest-selling game in franchise history. It seems that many sports fans are turning to video games to fill the void left by cancelled real-world sports.
For Piscatella, The Show has long been a favorite pastime, and it has taken on extra significance during the pandemic.
"I'm just a video game analyst, [and] I certainly do not have any background in psychology or in studying human behaviors, but MLB The Show helps me cope with real world issues," he said. "It's also my personal go-to while listening to the dozens of gaming podcasts I try to get through each week."
On the hardware front, NPD found that all three major consoles saw an increase in sales following several months of steady decline. In particular, the Nintendo Switch more than doubled its March 2019 sales, making last month the best March the system has seen so far. Unsurprisingly, the console has seen high demand in the face of lockdown orders, and Nintendo is struggling to keep supply up, although it has said it will be increasing production in the coming weeks.
If the company can meet the unprecedented demand remains to be seen, Piscatella said. After all, the market is undergoing wild changes at the moment.
"I don't even know how one could accurately predict what demand will be like in the coming months given the chaos in the marketplace," Piscatella explained. "Range of error on forecasting video game products is always high, but now? What assumptions are even reliable at this point? If each forecast assumption has an increased range of error, and there are dozens of forecast variables, the error can go exponential."
He said that Nintendo's ability to predict that demand will be key to providing an appropriate supply of Switch units, but there are too many variables along the supply chain to make an accurate estimation.
"We are absolutely in 'best guess' territory when it comes to trying to estimate market demand over the next few months at least," Piscatella noted.
It's realistic that this variability will extend to the launch of the upcoming next-gen hardware from Microsoft and Sony later this year. As an analyst, Piscatella is better positioned to understand the market the Xbox Series X and PlayStation 5 will release into, but, again, it's all but impossible to deduce in March 2020.
"I have predictions, sure. I feel good about those predictions given my planning assumptions. But I do not feel good about my planning assumptions. And there's the rub," he mused. "What games will launch with the new boxes? What are the boxes priced at? What do they even look like? When are they coming? And, at a more macro scale, what is unemployment going to look like? Incomes? We're looking at extreme marketplace uncertainty right now. Anyone saying otherwise is fooling themselves."
All we can be certain of at this point in time is, if NPD's report is any indication, video games have become one of the most prominent forms of entertainment for a quarantined world. The rest of 2020 may be one enormous variable, but right now the video game industry is enjoying incredible growth in the face of global uncertainty.