After a soft launch in Canada, the Discord Store is now live for users around the world.
Discord's expansion into worldwide game sales is designed to convert the 150 million users of its free chat and voice service, most of whom play video games, into paying customers. The company is offering games directly for sale via a prominent store, which launched with 21 titles from a small handful of developers and publishers, including THQNordic.
It's a paltry offering compared against the likes of Steam and GoG, but Discord believes a curated approach is the right way to go for its audience. The 21 games available on the store at launch include four "First on Discord" titles that are as yet only available on PC via the chat service.
These include Raw Fury's Bad North, which found a niche following on Switch after its release in August 2018.
"We've known the folks at Discord for a while now, some of them from before their time at Discord, and have admired the way they approach things because it's similar to how we operate–being open and transparent with potential partners, bringing in your community early, and overall just taking a human approach first and then pairing it with business," says Raw Fury co-founder David Martinez. "They're great partners with a large reach and dedicated fanbase, and they have cool ideas brewing on how to further bring in their audience down the road, so we wanted to be a part of that journey early on. They also gave us cookies."
Discord has also added a new $9.99 per month ($99.99 per year) tier to its Nitro premium service, which offers better screen sharing resolution, custom emojis, larger file upload size limit, and animated avatars. The new Nitro offers a Netflix-style game library of 60 games.
These are largely older titles, including FTL, Darksiders: Warmastered Edition, Psychonauts, and Super Meat Boy. Discord is taking a "less is more" approach to its Nitro subscription offerings and its store. The company explained in a blog post from August, when it announced the Store and Nitro offerings:
"For many people like us, you grew up during a time when there were a relatively small amount of games being released. We remember devouring Nintendo Power, PC Gamer, and other various gaming mags to get a sense of the titles coming out. We were always longing for the next best title. Always anxious to get our hands on something fresh. Today, the problem has flipped on its head. There's an abundance of fantastic games. Fantastic games that we missed. Games that we even purchased but never got around to playing.
"We want to give you an easy opportunity to play the golden games you've missed and we want to offer an awesome selection. So, we've curated some of these golden games and will be adding them to Discord Nitro."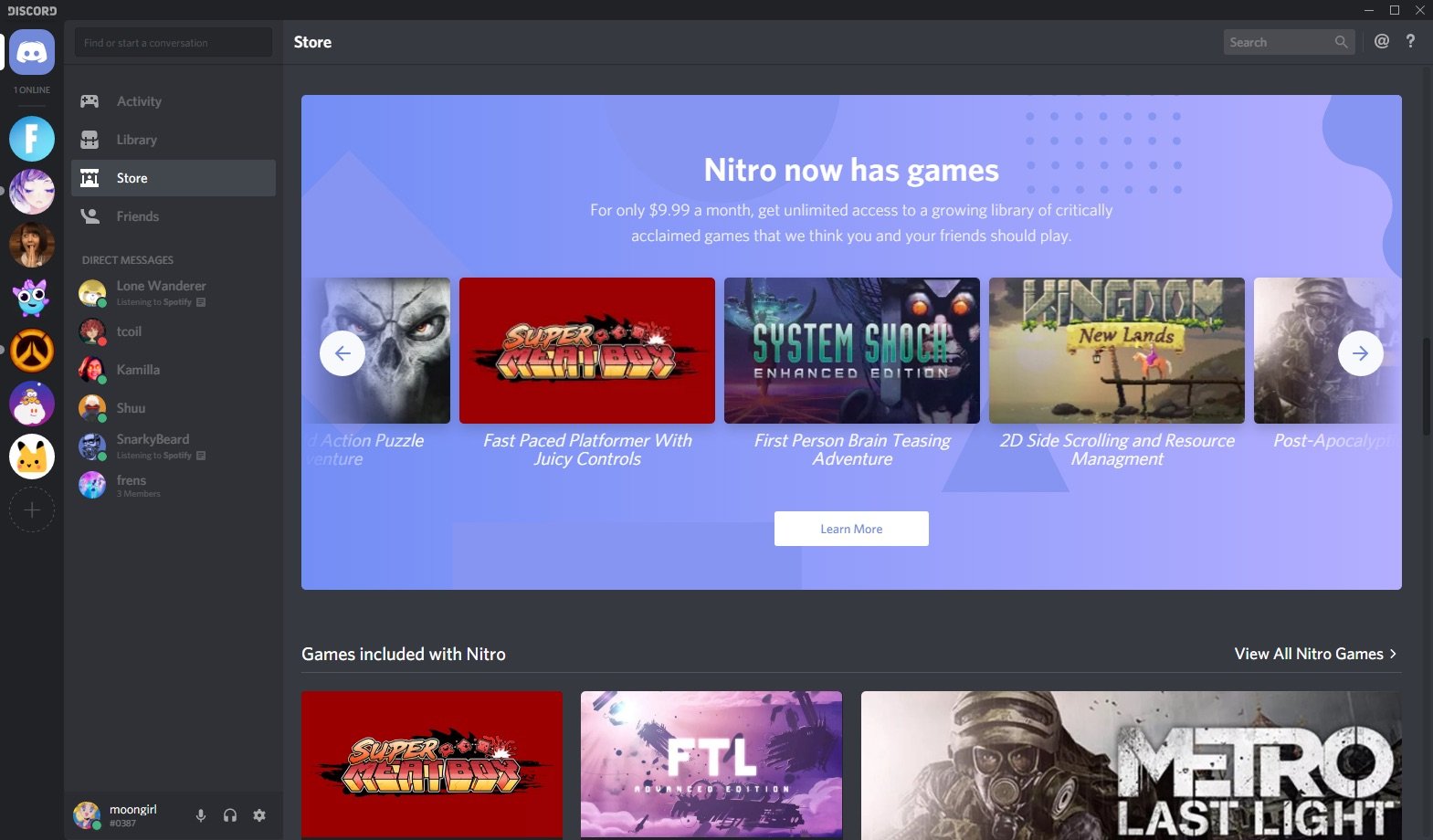 Given that so many of these games have been out for years, it's unclear what the incentive to subscribe is. It's likely many of these games are already in Steam or GoG libraries in that pile of "fantastic games that we missed." Compare that with Xbox Game Pass (priced identically to Discord Nitro), which immediately gives subscribers day-and-date access to new releases, and the scales start to tip. Currently Xbox Game Pass offers 15 of its more than 100 Xbox One and Xbox 360 games on PC (denoted by the "Xbox Play Anywhere" nomenclature).
Discord's biggest competitive advantage in taking on giants like Steam is its captive audience. In May, the service reported 19 million daily active users. Since then, the company has added 20 million users, likely rocketing its daily usership even higher.
Steam still boasts more than double the daily active usership, with 45 million as of October 11, 2018. And it's far safer to suggest that nearly all Steam users are on the service with the intent to purchase and play games. Discord can't guarantee that level of store adoption from its 19 million daily users.
But what Discord offers that Steam doesn't, even with Valve's overhauled friend list and chat features, is in-depth engagement. Discord's smartest step in rolling out its store is a seamless, low friction universal library. Users need only visit the Library tab and click one button to discover every installed game instantaneously. This works with Steam, uPlay, GoG, and Origin (listing clearly which service you use for each game). It didn't grab my Battle.net games, though.
The brilliance here is that Discord reports (as an opt-in feature) what your friends are playing. From there, you can click on a profile and a "Play" button shows up. The trick is going to be in how Discord progresses its users from chatter to player to customer.
It's not enough that people use Discord. The company still needs to sell itself as a retailer, and that is an entirely different sandbox than offering chat and voice services for free.