[Update 9/10/2019] At its special event today, Apple kicked things off right away, spotlighting a few games on its Apple Arcade and confirming the rumored $4.99 per month pricing, which gives access to Arcade to the whole family. The service launches officially on September 19, and Apple is also offering a free one-month trial.
Original story (8/20/2019)
When it launches this fall, Apple Arcade will be the latest subscription to join an entertainment smorgasbord of plans vying for a piece of consumers' monthly spend. According to a report from 9to5mac, however, the average iPhone user already paying for Netflix, Hulu and more, will only be asked to set aside $4.99 a month to gain access to more than 100 games on Apple Arcade.
The $4.99 price point was discovered in an App Store API by iOS 13 beta testers. It's worth mentioning that Apple has still not officially disclosed any pricing for the Apple Arcade service, and the company could announce a different pricing structure during its next big iPhone event on September 10. Apple did not reply to GameDaily's request for comment.
If the $4.99 holds, it represents a fairly aggressive move by the company considering that both Apple Music and Apple News have their own subscriptions that cost double ($9.99). Not only that, but $4.99 reportedly gains a subscriber complete family access on a family sharing account.
"A price point of $4.99 suggests that Apple is keen on provoking a land grab in subscription-based game services," SuperData co-founder Joost van Dreunen remarked to GameDaily. "It also builds on its experience with Apple Music: after initially offering a 3-month free trial period, it reduced this to one month in July this year. The Arcade comes with just one month from the start. If we extend that logic, we can safely expect around 50 million people to sign up within the first 24 months, provided Apple continues to add content."
In January, Apple said that there were 1.4 billion active iOS devices out there, so 50 million would only represent around 3.5% of the overall user base, should SuperData's estimate prove accurate.
Arcade may represent a mere fraction of the total game playing audience, which has become accustomed to the free-to-play business model. That said, as was noted at Apple Arcade's reveal back in March, premium mobile games have been "increasingly marginalized." Arcade could represent a bastion of premium gaming content for developers who are tired of working within the micro-transaction framework and for parents that are concerned about children racking up big bills on their credit cards with in-game purchases.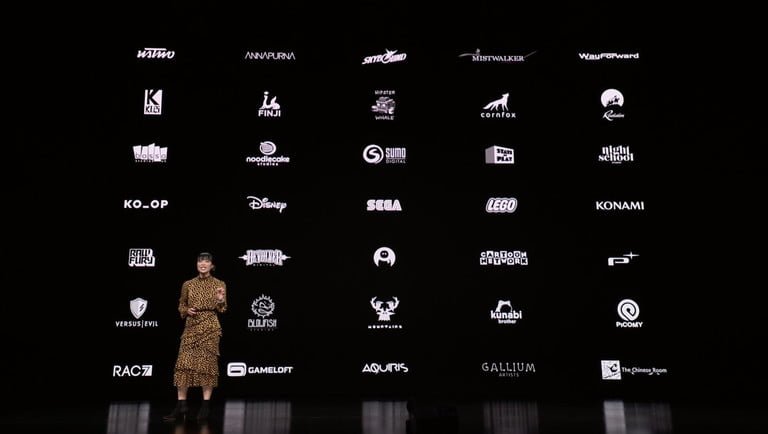 "An offering like Apple Arcade should appeal in particular to parents because minors tend to be equally excited and confused about the costs of free-to-play games," van Dreunen added. "It is not a play for the attention of the traditional hardcore gamer audience, at least not on the basis of the titles that will initially be available." (Macworld has a handy list of all the confirmed Arcade games so far.)
While the typical iPhone user may not be a hardcore gamer, the premium games coming to Arcade may give more incentive to the core crowd to sign up.
"It's important to note that the overwhelming majority of that spending is on microtransactions in free-to-play titles, so only a small percentage of overall spending is going to premium games of the type included with Apple Arcade," commented Alex Malafeev, co-founder of mobile analytics firm Sensor Tower. "That being said, we can certainly see this being an attractive offering for a niche segment of Apple's users who'd be considered hardcore gamers. We anticipate a large percentage of these gamers trying the Arcade service, with the number who convert to subscribers highly dependent on the quality and quantity of games on offer not only at lunch, but in subsequent months.
"In terms of the overall iOS user base, we expect Apple Arcade to appeal to a small but dedicated segment in the long run. Apple is no doubt counting on a much larger percentage to at least try the service via the free trial and get hooked by the quality of titles offered, but it remains to be seen how many will see the $5 a month as something they'll want to keep paying."
The only way that Apple Arcade subscribers will keep paying, of course, is if Apple continues to curate highly engaging content. In April, it was revealed that Apple has already allocated $500 million to fund exclusives for Apple Arcade, so the company is serious about its intentions to bolster the Arcade library, and it may be further motivated by competition with Google Play Pass, which is only in the testing phase at this point.
Although $4.99 sounds like an affordable price, there is an ongoing value proposition battle that the mobile games world still faces. Keep in mind that this is an ecosystem in which some players scoff at premium game price points of $5.99.
"In order to grow from what will initially constitute a very small portion of overall mobile gaming revenue, these subscription services will need to make a strong value proposition to users outside of hardcore gamers," Malafeev continued. "One of the advantages services such as Xbox Game Pass have over something like Apple Arcade is that in those instances consumers are paying $10 per month for several new $30-$60 titles. On mobile, the perceived value of games is completely different among consumers, who are accustomed to paying nothing for most games, so the impetus is on Apple and others to really push the value of what's being offered."
Apple will not only have to convince consumers but, crucially, developers. Opening the piggy bank to fund some great games is one way to do it, but if other developers are merely compensated based on time-played (as is often the case with subscriptions), developers will have to think twice about the opportunity cost. Being among the games chosen for a highly curated subscription service is a great antidote to the discoverability nightmare, but will it be enough?
"Being chosen as a Game of the Day is incredibly attractive to mobile developers because it can do wonders for their user numbers. There's obviously a huge prestige factor at play with being selected for the Apple Arcade catalog, but the returns there will come in other forms," Malafeev noted. "For one, Apple is funding development, at least partly, for some of these titles. Depending on the revenue share model, developers will also likely get a fixed amount from Apple, or it could increase based on usage of their title (this is unclear). There's also the fact that multiplatform titles will benefit from being discovered by players through the Arcade catalog who then seek out these games on other platforms.
"Ultimately though, depending on the revenue share model and to what degree Apple is funding these titles, their developers potentially stand to come out considerably ahead of where they would be if they launched a premium game in the crowded general App Store. Instead of risking getting lost in the mix, they could at least guarantee a baseline of revenue."
It's too early to judge just how successful Apple Arcade ultimately will be, but one upside is that a number of indies who don't yet have the brand recognition of someone like Thatgamecompany's Jenova Chen, could stand to benefit from the service, van Dreunen said.
"There are lots of small fry developers on mobile. Having their titles acquired on a non-exclusive basis is an enormous win. It also protects them from traditional threats like cloning and copycats," he noted.
Apple seems to be poised to make a hard push with its Arcade service. The company has already labeled the Arcade titles as "groundbreaking" in marketing materials and has stressed that they'll play on "all your devices" (if those are Apple devices, that is). September 10 should reveal what stage Apple has reached with Arcade and whether it's truly ready to press start.