There aren't that many video game brands that can command truly mainstream attention. Activision's Call of Duty, Nintendo's Mario, and Rockstar's Grand Theft Auto are among the upper echelon of IP that just about anyone on the street has heard of. This year, according to new research shared with GameDaily by Interpret, Call of Duty has come out on top as the gaming brand to generate the most passionate fans.
Between June and September, Interpret surveyed nearly 9,000 Americans, ages 13 to 65, about 92 entertainment brands. The research firm then broke down the results between "fans" and "fanatics" based on their responses.
"Fanatics are measured by percent of people that respond to a brand as a top 5 favorite compared to all favorited brands on their list. It is considered a loyalty score and an indication of the strength of the fanship audience. These are fans that will drop everything to engage with their favorite brand," Interpret explained.
Fanatics are arguably the more important audience to pay attention to because these are the people demonstrating the highest engagement, and consequently are more likely to spend on their favorite brands as well.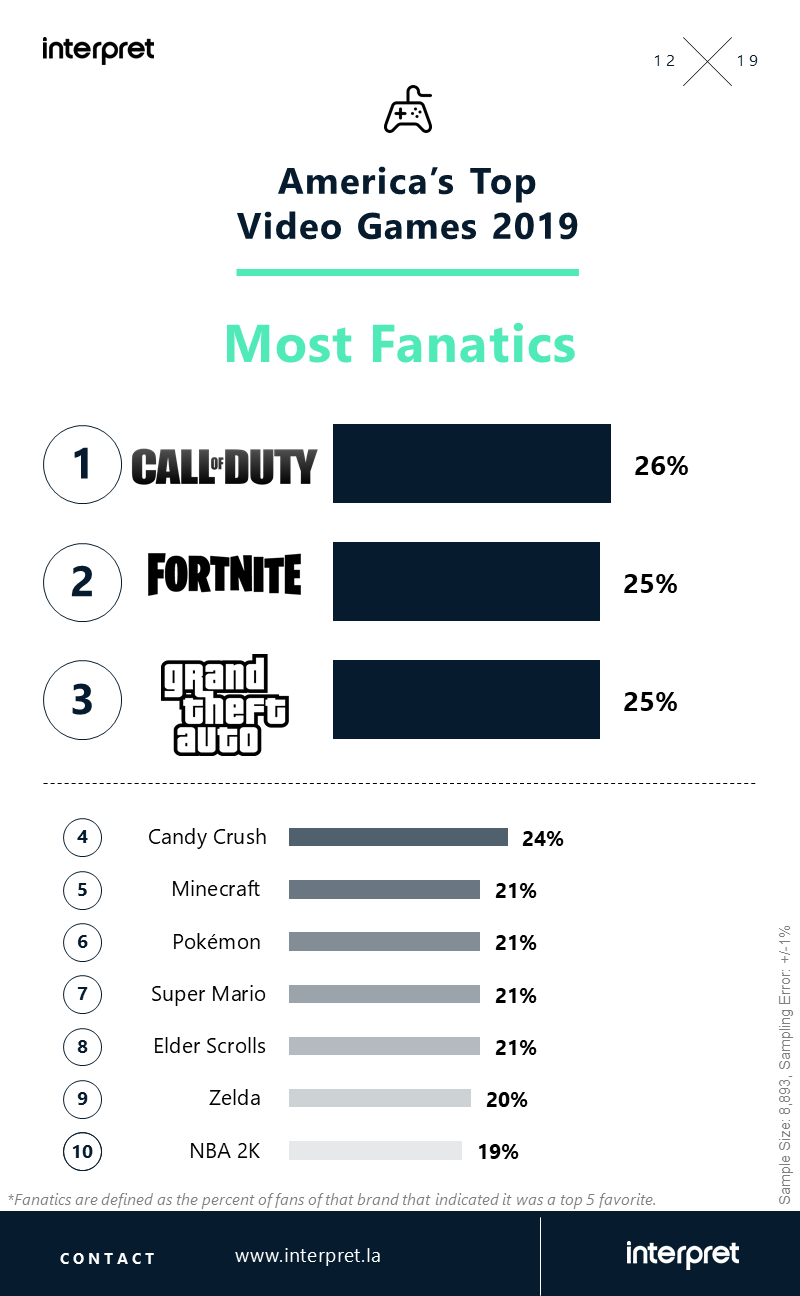 "I am not surprised that Call of Duty has the most loyal fanbase. This study was targeted to the general American public, not gamers. Call of Duty has always been a staple video game brand among the American and gaming population," Jesse Divnich, VP of Research and Strategy at Interpret commented to GameDaily.
"Achieving such strong fandom is something all brands try to achieve. It's not easy, but it first begins with listening to your audience, and it proceeds by acknowledging those opinions and implementing them into your game and messaging. Over time, your audience will recognize that you truly put your customers first, and naturally a brand will see an increase in brand loyalty."
The newest Call of Duty, Call of Duty: Modern Warfare, had the biggest launch of 2019, according to The NPD Group, earning over $600 million in just three days. The successful launch marked the 12th year in a row, going back to Treyarch's World at War in 2008, that a Call of Duty game ranked as the best-selling game in its launch month. It's a remarkable achievement to see that kind of consistency.
Call of Duty's brand loyalty would appear to have carried over to the brand-new Call of Duty: Mobile as well, given that the title generated $87 million in its first two months, according to Sensor Tower. Call of Duty players continue to be some of the most highly engaged. As SuperData reported in November, during Call of Duty: Mobile's first 14 days after launch, "gamers spent an average of 58 minutes a day playing Call of Duty: Mobile, an 86% increase over the 31 daily minutes players averaged in the first two weeks of Fortnite Mobile's Android launch in December 2018."
Call of Duty's significance to entertainment at large cannot be overstated. The brand was the only video game IP to make it into the top 10 of all entertainment brands among fanatics, joining powerhouses like Star Wars, Game of Thrones, Harry Potter, and Lord of the Rings.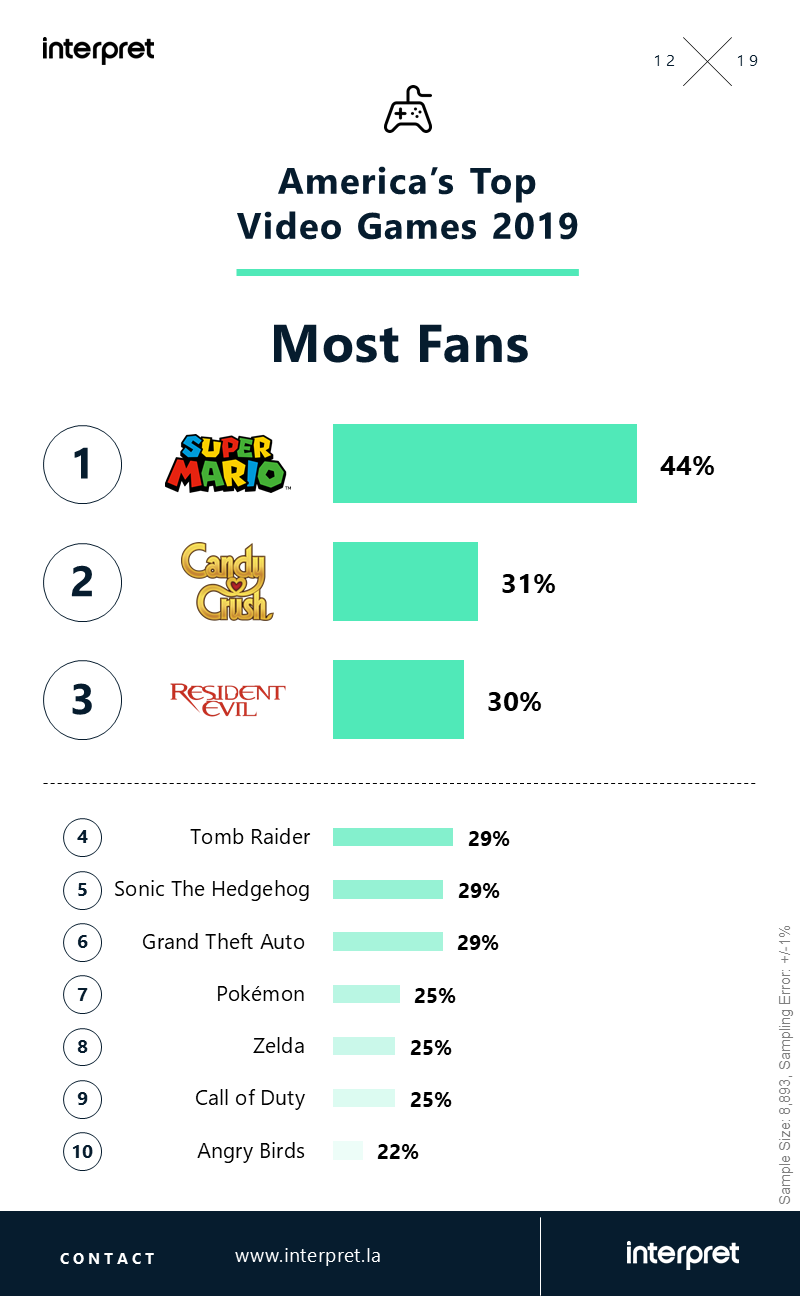 Within games, Call of Duty just barely edged out Fortnite and Grand Theft Auto, commanding 26% of fanatics' vote versus 25% for the latter two. The fact that Epic's battle royale was so close to the top of the list should come as no surprise given the phenomenon and cultural touchstone that the brand has become, inspiring dances and more. Fortnite's explosive success enabled Epic Games CEO Tim Sweeney to earn more than $7 billion in 2018 and propelled him into the Forbes 400 for the first time this year.
Epic introduced its battle royale mode into Fortnite after the introduction of PlayerUnknown's Battlegrounds (PUBG), but the latter just never captured the cultural zeitgeist in the way that Fortnite did, in part a sign of Epic's marketing expertise. PUBG was not able to find a spot in the top 10 gaming brands for either fans or fanatics. In fact, it was among the lowest on Interpret's rankings.
Divnich added, "Fortnite and PUBG are both fantastic games. Where Fortnite shines is [in] its ability to relate to the American gaming consumer. The art style, the culturally relevant emotes, and the special events are all elements that resonate well, especially among a younger audience. PUBG is fantastic, and a pioneer in the battle royale genre, but Fortnite has transcended from being just a 'game' to being a brand. It's culturally fashionable."
As you might expect, the most popular brands take years to establish themselves. Fortnite is an exception, having released in 2017. Interpret found that the top gaming brands among fans were more than seven years old, with most actually being more than 15 years old. These include the likes of Zelda, Resident Evil, Pokemon, Sonic the Hedgehog, Tomb Raider, and, of course, Super Mario. Nintendo's iconic franchise came in first and serves as the gaming foundation for an entire generation now in its 30s and 40s. For fans, not fanatics, Super Mario was the only video game to make the top 10 entertainment brands, joining massive properties like Spider-Man, Shrek, Iron Man, and Jurassic Park.
Given that Apple's App Store is now just a little over 11 years old, and it can take a few years for big brands to reach their pinnacle, it's not a shock to see a lack of mobile games represented on Interpret's charts. That said, as Fortnite has demonstrated, the lines between platforms are increasingly blurring, and mobile should prove to be home to many of the world's top gaming brands in the years ahead.
Candy Crush, which has seen multiple spin-offs and was the primary reason that Activision bought King for $5.9 billion back in 2016, was the only casual mobile game to make the top 10 lists for both fans and fanatics.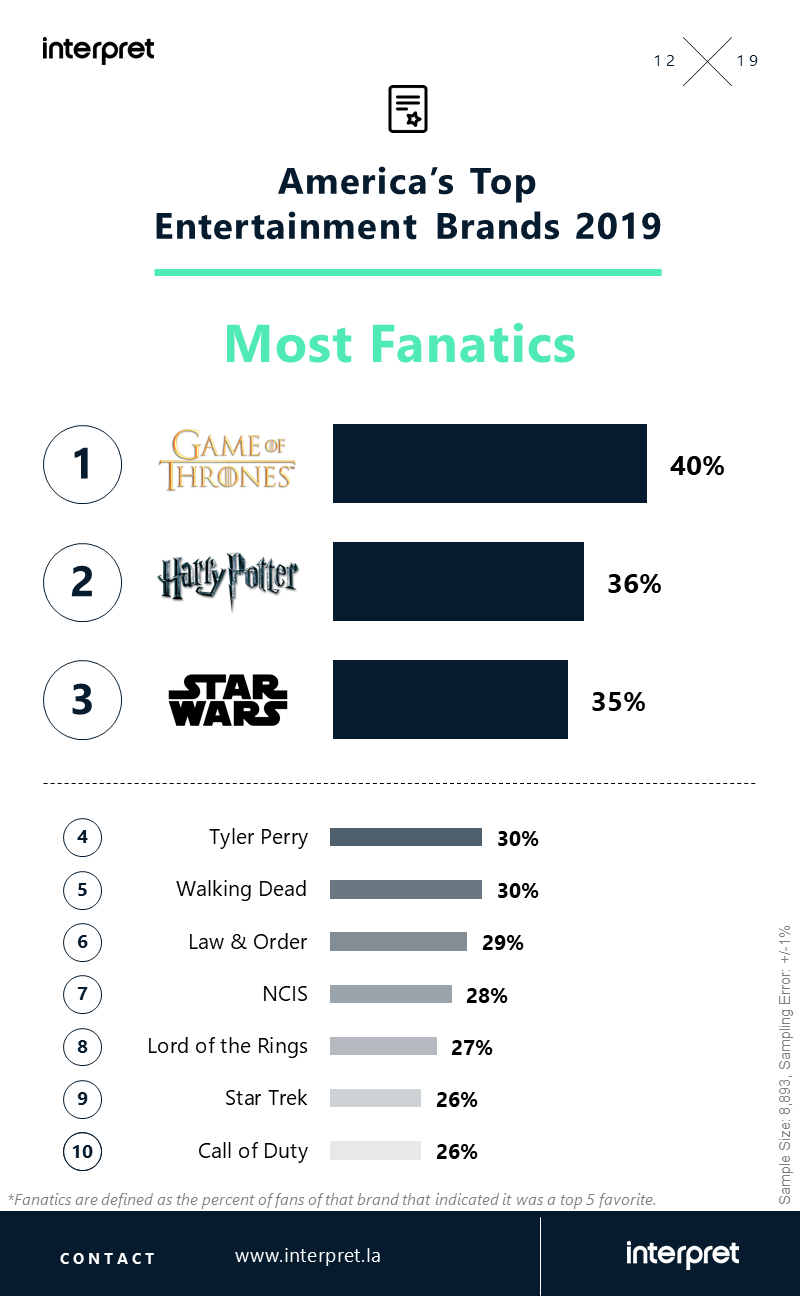 "The fact that any mobile game made the list is impressive. It shows how far mobile games have come," Divnich commented. "When we survey mobile gamers, 'Passing the time' is always the #1 reason for why people engage in mobile games. With multiple iterations of the Candy Crush brand and a short-lived television show, it's no surprise that the brand has struck a chord with the hearts of America. I expect more mobile gaming brands to make the list in 2020."
Looking at Interpret's top entertainment brands for both fans and fanatics unsurprisingly points to a lot of crossover between film, TV, games, and comics. Many of the world's biggest IP have made it into the world of games, whether that's Insomniac's record-setting Spider-Man, Electronic Arts' Star Wars Jedi: Fallen Order, Rocksteady's Batman games, Telltale's The Walking Dead or others. The best of entertainment is able to create a universe that draws people in, regardless of medium or platform. Big IP licenses can be incredibly expensive, but if leveraged with respect for the original creators' vision, they can also be incredibly lucrative.
"As movie or television brands become large enough, they transform into entertainment brands. It's natural for them to see adaptation within the video game industry. Certainly, the gaming audience is much more critical, even if it's a favorite entertainment brand. We've seen strong successes, such as Insomniac's Spider-Man, but we've seen colossal failures [too]. Regardless though, they surprisingly usually make a profit," said Divnich.
Interpret's research found that for gaming fanatics, Tomb Raider, Gran Turismo, Street Fighter, Sonic the Hedgehog, and Gears of War were the lowest ranked brands despite being popular IP for many years. "Tomb Raider and Sonic the Hedgehog ranked among those with a high fanship (29% of Americans), but when asked if either brand was among their top 5 favorites, less than 10% of their fan base said yes," Interpret noted. As for fans, Interpret said, "Some of the lowest-ranking titles, Apex Legends, PUBG, Counter-Strike, Roblox, and Gears of War, have not been able to solidify a strong fanship base, despite all being relatively well-known."
This doesn't mean that these gaming brands are failures by any stretch, but the research would seem to indicate a missed opportunity for these stalwart brands to drive increased engagement. There are more games being released each year than ever before, and in this games-as-a-service era, fans simply expect to see new content and events on a regular basis. If players are not entertained, they can quickly move onto a myriad of other games on the market. The PlayStation and Xbox console launches will provide even more options to potentially pull gamers away from their old standbys.
The Call of Dutys and Fortnites will have to ensure that their players remain engaged and entertained. Fanatics can all too easily turn into mere fans. It'll be interesting to see how Interpret's charts shake out a year from now.